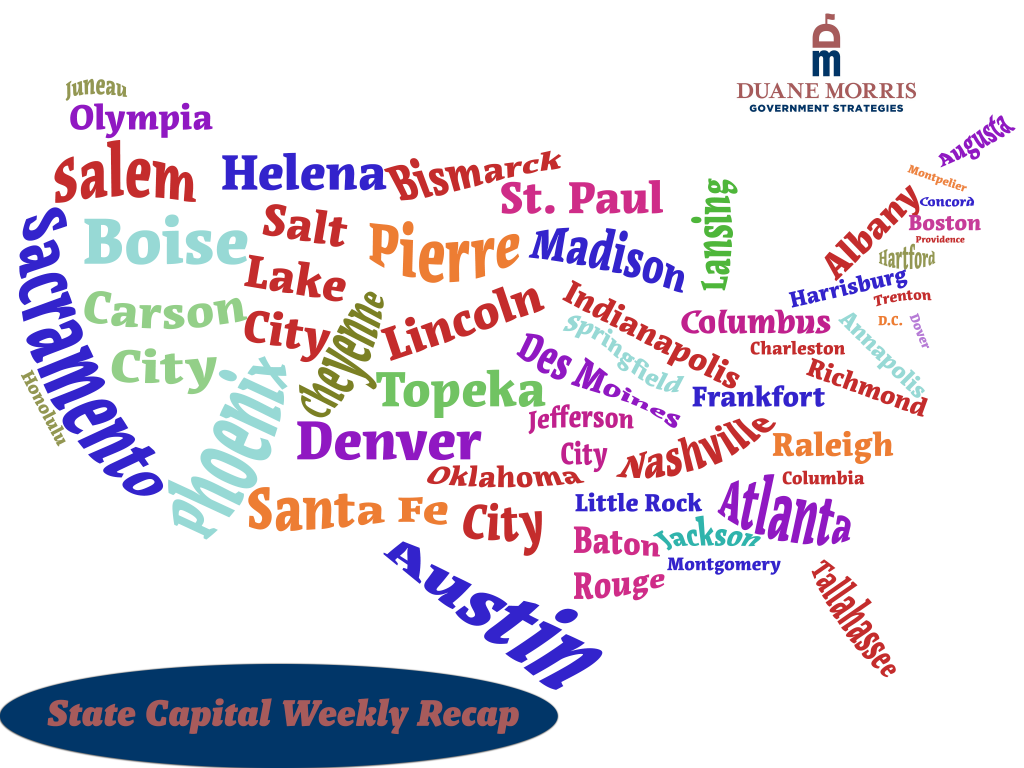 Lawmakers and state executives were busy this week across the country on a myriad of issues including redistricting, special sessions, mask mandates, COVID restrictions, vaccine requirements, bonuses for first responders, and more.
---
Alabama
Alabama will be getting the data needed, in less than a month, so the process can begin to reapportion the districts for the Alabama Legislature and School Board, and the Alabama Legislature's Joint Reapportionment Committee faces numerous challenges.
Read more here.
---
Alaska
Alaska's legislature is set to begin a special session on Monday, but legislative leaders have asked the governor to delay the session.
Read more here.
---
Arkansas
Gov. Asa Hutchinson reinstated the state's public health emergency this week, and announced he is calling a special session for lawmakers to amend the law banning mask mandates to allow schools more flexibility.
Read more here.
---
California
Some California lawmakers are feuding with the President Biden's administration over the state's high-speed rail endeavor, arguing that conditions of a restored federal grant lock the project into what they see as outdated technology for powering the bullet train.
Read more here.
---
Florida
Two state agencies in Florida signed contracts last month to collect information on police officers, firefighters, paramedics, teachers and principals to determine which ones are eligible for $1,000 bonuses and send them checks.
Read more here.
---
Michigan
Michigan state Republicans are trying to restrict some school health policies when it comes to COVID-19.
Read more here.
---
Minnesota
Lawmakers passed a new law in Minnesota's recent special session that will require automatic sprinklers in public housing buildings that are seven stories or taller.
Read more here.
---
New York
State senators in the Empire State heard firsthand this week from both voters & poll workers about the hassles and ordeals associated with New York City primary election last month.
Read more here.
---
North Dakota
North Dakota lawmakers met for the first time this summer to receive training on the software they'll be using to redistrict the state.
Read more here.
---
Texas
Texas Gov. Greg Abbott issued an executive order Thursday, reiterating his opposition to mask mandates, COVID restrictions on businesses, and mandatory vaccines. The executive order also calls for issuing fines of up to $1,000 on those who fail to comply.
Read more here.
---
Virginia
Virginia lawmakers are returning next week for a special session, and Governor Northam is outlining priorities for more than $4 billion in federal funding.
Read more here.
---
Don't Forget: This Week's Posts!
In this year's state legislative sessions, no fewer than four states have considered proposals to ban ransomware payoffs. In a ransomware attack, hackers access sensitive data then threaten to release the information unless they are paid a ransom.
After the 2020 murder of George Floyd by a Minneapolis police officer and the subsequent mass unrest that followed, many states brought forth legislation that would reform police conduct, hold officers more accountable for unnecessary use of force, and implement new policing strategies altogether.
---