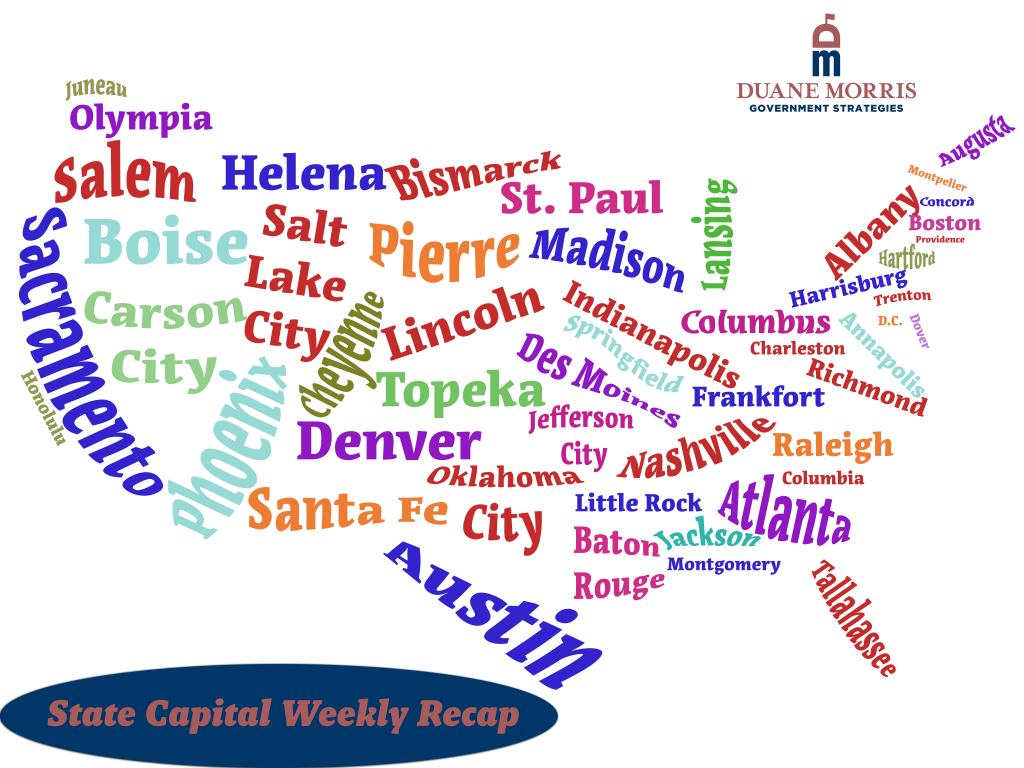 In this week's State Capital Recap, lawmakers around the country addressed various issues including marijuana, mask mandates, special sessions, redistricting, and more.
---
Arizona: Funding to Research Marijuana "Psychosis"
On the last day of Arizona's legislative session, lawmakers approved $250,000 in funding to research connections between the use of marijuana and "psychosis."
Learn more here.
---
California: Return of the Mask Mandate for Lawmakers
With at least nine people who work at the State Capitol testing positive for COVID-19 last week, a mask mandate is back in effect for lawmakers and staff.
Learn more here.
---
Illinois: Medicaid Expansion Signed by Governor
Governor J.B. Pritzker signed Senate Bill 2294 this week, allowing Illinois residents with Medicaid coverage to now have access to mental health counseling, substance abuse treatment, smoking cessation, and dental services.
Learn more here.
---
Kentucky: Capitol Campus Reopens
For greater than a year, Kentucky legislative committee meetings have been held virtually and available via livestream to the public. Now, the public will be allowed back in the Capitol and Capitol Annex.
Learn more here.
---
New Mexico: GOP Effort to Convene Extraordinary Session Fails
An effort led by GOP lawmakers to convene a special session to address how federal funds are allocated failed this week.
Learn more here.
---
New York: Governor Signs Law Allowing Restaurants to operate on Municipal Sidewalks and Closed Streets
Governor Andrew Cuomo signed legislation extending a previous Executive Order allowing restaurants to use municipal spaces like sidewalks and streets for outdoor dining for another year.
Learn more here.
---
Pennsylvania: Forensic Election Audit?
Pennsylvania State Senator Doug Mastriano sent letters this week to various counties asking for election-related equipment and materials in order to conduct a forensic investigation of both the 2020 election and the 2021 primary election.
Learn more here.
---
Texas: Governor Sets Special Session Agenda
Governor Greg Abbott laid out the agenda for Texas' special legislative session, which began on July 8. The items laid out by Abbott include: bail reform, election integrity, border security, social media censorship, Article X funding (funding of the legislature), family violence prevention, youth sports, abortion inducing drugs, a "thirteenth check", critical race theory, and appropriations.
Learn more here.
---
West Virginia: Redistricting Hearings Set
The West Virginia legislature's joint redistricting committee has set dates for public hearings to address the state's redistricting process. 12 in-person hearings will be held, in addition to three virtual hearings.
Learn more here.
---
Don't Forget This Week's Blog Post, Too!
As of 2021, several states have introduced various death penalty legislation that would entirely abolish the death penalty or make significant changes to the crimes eligible for the death penalty as punishment.
---