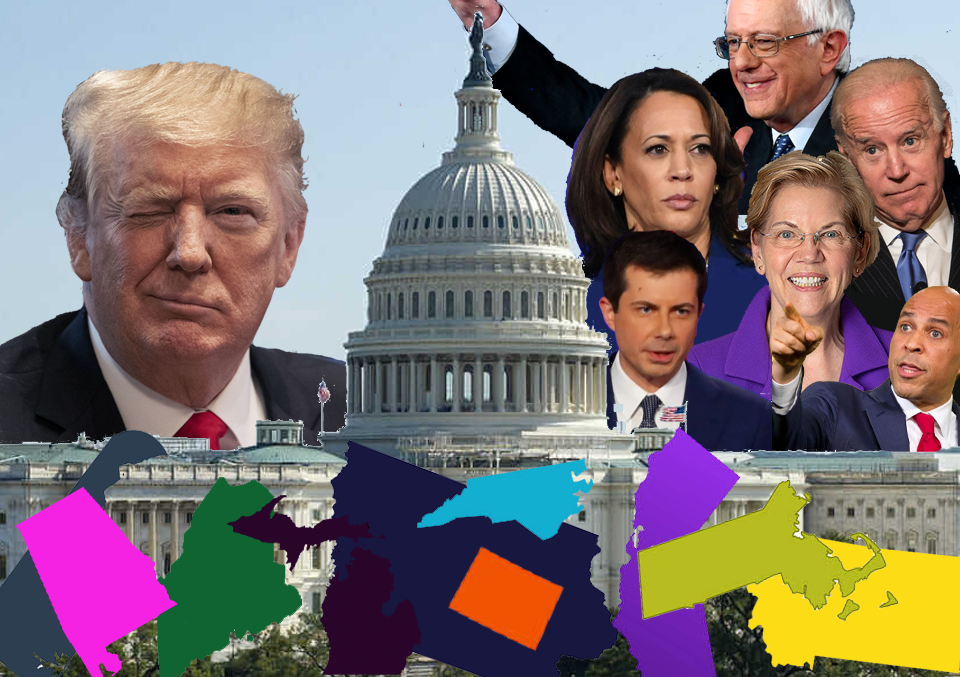 With the 2019 elections in the book, DMGS previews the 2020 election now coming into view on the horizon.
Presidential Election
President Trump broke precedent by filing paperwork with the FEC to run for re-election on his Inauguration Day, becoming the earliest President to do so.
The Republican National Committee and Trump's campaign have reported raising $156 million, more than twice the amount that President Barack Obama's re-election committees had at this point in 2011. President Trump has solicited more campaign contributions in his first two years in office than any president has.
The Democratic presidential field has narrowed slowly, with a gradually higher bar for debate participation forcing many early candidates to exit the race. Those qualified for the November debate now include: Biden, Harris, Booker, Klobuchar, Buttigieg, Yang, Warren, Sanders, Steyer, and Gabbard.
2020 Senate Races
There will be a total of 35 Senate seats up for election in 2020. Of those, the Republican Party holds 23 and the Democratic Party holds 12. In 2016, President Trump lost in only two states where Republicans will defend in 2020.
Doug Jones (D-Ala.)
Dan Sullivan (R-Alaska)
Martha McSally (R-Ariz.)
Tom Cotton (R-Ark.)
Cory Gardner (R-Colo.)
Chris Coons (D-Del.)
Open (R-Ga.)
David Perdue (R-Ga.)
Jim Risch (R-Idaho)
Dick Durbin (D-Ill.)
Joni Ernst (R-Iowa)
Open (R-Kan.)
Mitch McConnell (R-Ky.)
Bill Cassidy (R-La.)
Susan Collins (R-Maine)
Ed Markey (D-Mass.)
Gary Peters (D-Mich.)
Tina Smith (D-Minn.)
Cindy Hyde-Smith (R-Miss.)
Steve Daines (R-Mont.)
Ben Sasse (R-Neb.)
Jeanne Shaheen (D-N.H.)
Cory Booker (D-N.J.)
Open (D-N.M.)
Thom Tillis (R-N.C.)
Jim Inhofe (R-Okla.)
Jeff Merkley (D-Ore.)
Jack Reed (D-R.I.)
Lindsey Graham (R-S.C.)
Mike Rounds (R-S.D.)
Open (R-Tenn.)
John Cornyn (R-Texas)
Mark Warner (D-Va.)
Shelley Moore Capito (R-W.Va.)
Open (R-Wyo.)
If the Democratic Party wins a net total of four seats, they would take control of the Senate while a gain of only three seats would leave the vice president in a position to break tie votes.
Race to Watch
Doug Jones (D-Alabama)
Jones is the most vulnerable incumbent; Jones won his seat when he beat Republican former judge Roy Moore, after allegations of Moore's sexual misconduct against teenage girls were made public. Trump also won Alabama by 28 points in 2016 and Jeff Sessions (R) is now campaigning to reclaim his seat. However, it is unclear if Sessions has patched a strained relationship with Trump. Sessions must also face Moore, Representative Bradley Byrne, former Auburn football coach Tommy Tuberville and others in a crowded March primary.
Susan Collins (R-Maine)
Collins will face the winner of a Democratic primary that includes Maine House Speaker Sara Gideon. Collins is one of two Republican senators running for re-election in states won by Democratic candidate Hillary Clinton in 2016.
Cory Gardner (R-Colorado)
Gardner is the other Republican senator running for re-election in states won by Democratic candidate Hillary Clinton in 2016. Gardner' Democratic opponents include former Gov. John Hickenlooper, who is the preferred candidate of the DSCC, and former state House Speaker Andrew Romanoff.
Martha McSally (R-Arizona)
McSally lost a 2018 Senate race and was subsequently appointed to fill Senator John McCain's seat. Former astronaut Mark Kelly, the husband of former Rep. Gabrielle Giffords, is challenging McSally in the special election to serve the remainder of the term; both candidates must win primary challenges first.
Thom Tillis (R-North Carolina)
Tillis holds a seat the Democratic Party will need to win the Senate and early polling hints at a tough primary and general election for the Republican. Democratic challengers include Cal Cunningham, a former state senator backed by the DSCC, and state senator Erica Smith.
Joni Ernst (R-Iowa)
Ernst is gearing up to face a strong Democratic challenger, DSCC-backed businesswoman Theresa Greenfield, in a state Trump won in 2016, but chose Obama in 2012.
Gary Peters (D-Michigan)
Peters is expected to face Republican John James, a veteran and businessperson who staged a strong challenge in 2018 to Debbie Stabenow, the state's other Democratic senator. The State of Michigan backed Trump by two-tenths of one percentage point in 2016, so it may be a pickup opportunity for the Republican Party.
Ed Markey (D-Massachusetts)
It will not affect the control of the Senate, but veteran lawmaker Ed Markey will face Rep. Joe Kennedy in the primary, setting up a closely watched match-up likely to spark a costly contest with a generational contrast.
2020 House Races
All 435 House seats are up in 2020. The Democratic Party is defending their majority after a net gain of 40 seats in the 2018 election. Republicans would need to win around 18 seats to flip control of the chamber. Some of the most closely watched races will be districts won by the other party's 2016 presidential candidate.
House Races to Watch
Several progressive Democrats are aiming to repeat Alexandria Ocasio-Cortez's (D-NY) upset win by mounting liberal primary bids to oust long-term incumbents such as New York's Eliot Engel, Jerry Nadler, Carolyn Maloney, Kathleen Rice and Yvette Clarke as well as Massachusetts' Richard Neal, Texas' Henry Cuellar, and Majority Leader Steny Hoyer of Maryland. Sixteen-term New York Democratic Representative Nita Lowey announced her retirement and was facing her first primary challenge in decades.
An Iowa state senator aims to force out embattled incumbent Steve King in the Republican primary. After a January 2019 interview in which he questioned the negative connotations of the terms "white nationalist" and "white supremacy", Republican Representative King was widely condemned by both parties and the Republican Steering Committee removed him from all House committee assignments. King's 2018 Democratic opponent also plans to run again after losing to King by only 3 points in 2018.
Former Republican Rep. Darrell Issa is among those seeking to defeat federally indicted California Republican Duncan Hunter in a primary.
The other major trend in the 2020 House election has been the parade of Texas Republican retirements. Six Texas Republicans are retiring and the more competitive Texas House districts may be difficult for Republicans to retain without an incumbent. Former Texas Republican Representative Pete Sessions is seeking to make a comeback for one of the open seats after Democratic Representative Colin Allred defeated him in 2018.
2020 Governors' Races
John Carney Jr. (D-Del.)
Eric Holcomb (R-Ind.)
Mike Parson (R-Mo.)
Open (D-Mont.)
Chris Sununu (R-N.H.)
Roy Cooper (D-N.C.)
Doug Burgum (R-N.D.)
Open (R-Utah)
Phil Scott (R-Vt.)
Jay Inslee (D-Wash.)
Jim Justice (R-W.Va.)
There are 11 governorships up for election in 2020. Seven are held by the Republican Party and four are held by the Democratic Party.
West Virginia's incumbent, Jim Justice, was elected in 2016 as a Democrat, but changed party affiliation and will run for re-election as a Republican.
Washington incumbent Jay Inslee (D) dropped out of the presidential race and is running for re-election.