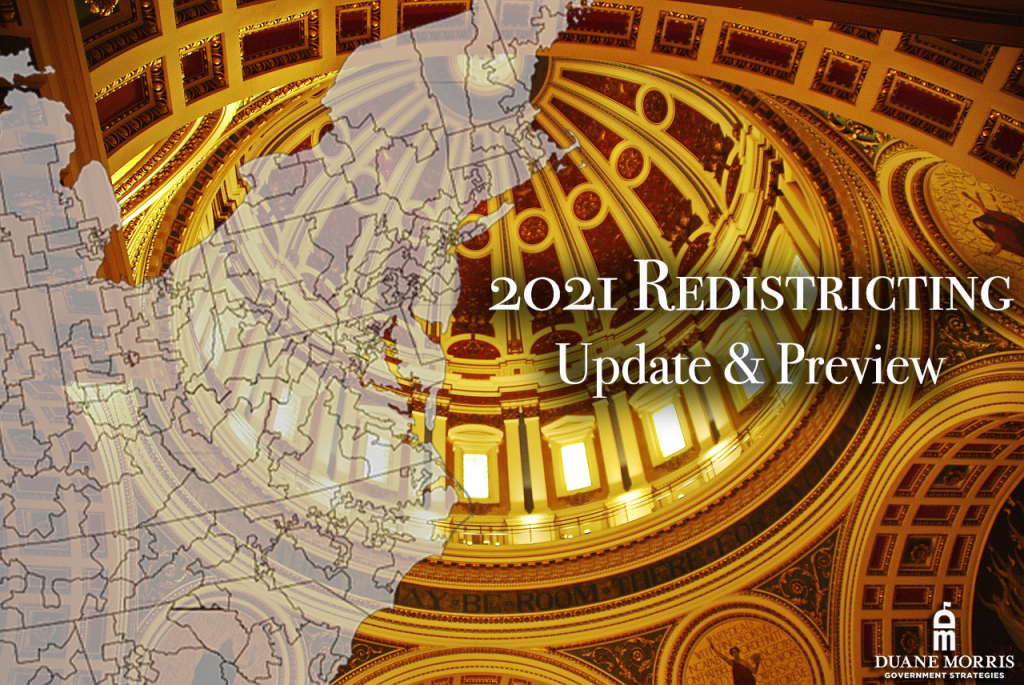 In 2021, as new legislative sessions begin across the nation, state and congressional voting districts will be redrawn based on population data from the 2020 U.S. Census. 2021 redistricting will be a focal point for state legislatures across the country this year. Traditionally, state legislatures have been responsible for setting new voting district boundaries every ten years. However, many state legislatures are now seeking redistricting reform through legislation or independent redistricting commissions.
---
Pennsylvania
In Pennsylvania, lawmakers form a reapportionment commission comprised of majority and minority party leaders from the state House of Representatives and state Senate. The four political leaders who become commissioners must choose a fifth, non-legislative member to serve as the Commission's chair. However, because the commissioners can seldom agree, the Pennsylvania Supreme Court typically must appoint the fifth member, as required by the state constitution. The Legislative Reapportionment Commission must then propose new legislative district maps.
The 2021 legislative session is likely to produce new bill introductions aimed at redistricting reform. In the House, Representative Wendi Thomas is likely to reintroduce the Legislative and Congressional Redistricting Act (Former HB 2638). The bill would require multiple statewide hearings held by the House and Senate State Government Committees both before and after preliminary redistricting plans are approved. The bill would also impose "clear, measurable mapping criteria," including: (1) limits on county splitting, (2) increased protections for racial and language minorities, and (3) requirements for compactness, contiguity, and prohibited division of political subdivisions.
In the Senate, Senator Lisa Boscola will introduce a redistricting reform bill to establish an Independent Commission by Random Selection. Under the legislation, the Commission is "required to develop a preliminary plan for Congressional and state legislative districts . . . . [a]fter a series of public hearings across the state, the Commission will either approve or disapprove of the plan." For a redistricting plan to be approved, the plan must receive seven votes. Pennsylvania lawmakers are likely to introduce many other redistricting bills for the General Assembly's consideration in the upcoming session.
---
Maryland
In Maryland, Governor Larry Hogan signed Executive Order 01.01.2021.02, forming a redistricting commission comprised of major party members and unaffiliated voters. The Commission must submit recommendations for new legislative district boundaries. The Maryland Citizens Redistricting Committee must assemble fair legislative maps that conform with specific criteria, including: (1) complying with the U.S. Constitution and Voting Rights Act of 1965, (2) respecting natural boundaries and geographic integrity, and (3) not taking into account voter party affiliation.
Additionally, Governor Hogan's executive order mandates the following procedural requirements that the Commission must adhere to, including:
Conduct open and transparent proceedings that: (i) Enable full public consideration of and input as to the establishment of legislative and congressional districts, and (ii) Encourage citizen outreach and broad public participation in the redistricting process;
Conduct regional summits to allow citizens to offer comment on the boundaries of the congressional and legislative districts; and
Provide an electronic portal for citizens to review redistricting data and submit their comments about redistricting.
---
Texas
In Texas, redistricting will be front and center on lawmakers' legislative agendas for the 2021–2022 legislative term. Since Congress passed the Voting Rights Act (VRA) in 1965, every map submitted by state lawmakers has been challenged in court. For decades, the VRA required Texas to obtain preclearance from the U.S. Department of Justice or a federal court because of Texas's long history of voter suppression. However, in 2021, Texas is no longer under federal oversight pursuant to action by the U.S. Supreme Court.
Ordinarily, U.S. Census data must be presented to the Texas Legislature by April 1. In 2021, this process is likely to be delayed because of the pandemic and actions by the Trump administration. However, mandatory delivery by April 1 is a statutory requirement. If lawmakers do not complete Congressional redistricting in a regular legislative session, they could take it up in a special legislative session.
In January 2021, state lawmakers announced that they seek public comment for the redistricting process. The Texas State Senate Redistricting Committee scheduled virtual public hearings for different state regions. The virtual public hearings are occurring as follows:
Monday, January 25: West Texas;
Tuesday, January 26: South Texas;
Wednesday, January 27: North Texas;
Thursday, January 28: Central Texas; and
Friday, January 29: East Texas.
Texas is likely to gain at least two congressional seats due to overall population growth relative to other states over the past decade. The number of seats in the state House of Representatives and state Senate will remain the same, holding at 150 and 31, respectively.
---
Virginia
In Virginia, the bipartisan Virginia Redistricting Commission was recently formed after voters approved a referendum creating the Commission. The 16-member Commission has eight seats dedicated to citizens. Citizen members are nominated by state House and Senate leadership and confirmed by a panel of retired judges.
In a show of bipartisan support, the commission members chose two chairwomen, one Democrat and one Republican. Nevertheless, Virginia's redistricting process is delayed because the Commission cannot redraw districts until U.S. Census data becomes available.
---
Ohio
In 2018, Ohio voters approved a new process seeking to draw legislative and congressional districts fairly. The new process attempts to prevent gerrymandering through new rules and procedures. For example, maps must keep 65 of Ohio's 88 counties whole. Only five counties are permitted to be divided more than twice.
However, there are still differences between how state legislative and congressional maps will be drawn. The Ohio Redistricting Commission is responsible for drawing state legislative boundaries. The Commission includes: the Governor, Secretary of State, State Auditor, and 2 Republicans and 2 Democrats from the state House and Senate. State lawmakers will create Congressional maps and must obtain bipartisan approval.
---
Illinois
In Illinois, attempts at redistricting have been a perennial issue. Over the last few years, politicians and activists campaigned for redistricting reform by advocating for an independent and bipartisan commission.
On January 8, Rep. Tim Butler introduced a bill that would eliminate legislative control of redistricting. However, the state constitution requires the General Assembly to manage the redistricting process. Governor J.B. Pritzker, who holds veto power over any potential legislative map, announced he would veto any redistricting plans that are clearly partisan.
---