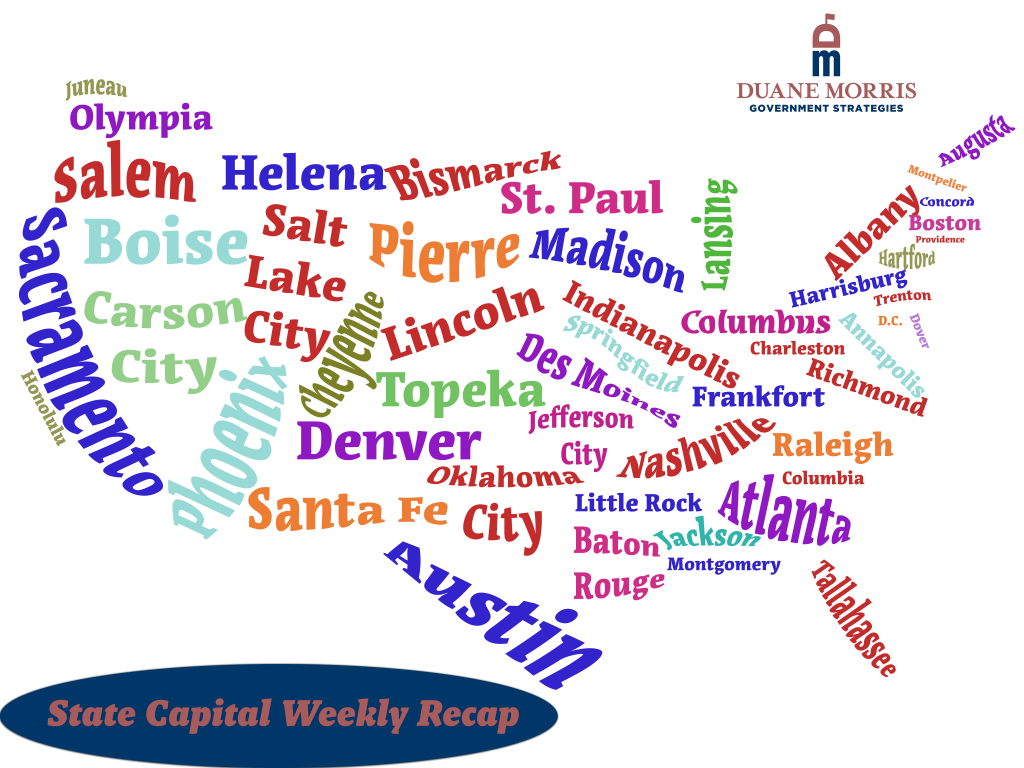 This week, a lot of focus was spent in various states to address mask mandates, particularly in schools, which is something DMGS specifically covered earlier this week. Outside of mask mandates, states were busy addressing firearm legislation, COVID vaccine mandates, marijuana, and the Texas House finally reached a quorum this week.
Feel free to let us know what is going on in your state for our upcoming State Capital Weekly Recaps!
---
Alabama
This week, an Alabama lawmaker announced he will be proposing legislation to ban schools from mandating K-12 public schools form mandating students wear face masks.
Read more here.
---
Florida
Schools in Florida are considering defying Governor Ron DeSantis' mask mandate prohibition, even though they face financial repercussions if they do.
Read more here.
---
Indiana
Governor Eric Holcomb this week said he would continue allowing local officials to impose their own rules related to face masks.
Read more here.
---
Kentucky
The Kentucky legislature's Administrative Regulation Review Subcommittee voted this week to declare the state Board of Education's universal face mask requirement for schools as "deficient."
Read more here.
---
Nevada
The Nevada Interim Finance Committee approved new funding this week to help the Cannabis Compliance Board oversee the state's new cannabis consumption lounges. Lounges are expected to set up shop now by mid-2022.
Read more here.
---
New Jersey
This week, the New Jersey Cannabis Regulatory Commission released the first set of rules outlining what the future of the NJ cannabis industry will look like.
Read more here.
---
New York
Earlier this week, Governor Andrew Cuomo announced all healthcare workers in the Empire State will be mandated to have the coronavirus vaccine by September 27th.
Read more here.
---
North Carolina
On Wednesday, North Carolina's state Senate passed a bill that would allow residents to bypass the requirement to obtain a permit from the local sheriff to purchase a handgun.
Read more here.
---
Pennsylvania
A lawmaker from Central Pennsylvania announced this week he is introducing legislation to establish state-funded education savings accounts – Keystone Hope Scholarships – that could help cover homeschooling or private school tuition costs.
Read more here.
---
Rhode Island
Over 30 lawmakers in Rhode Island are urging Governor Dan McKee to mandate face masks for public schools, regardless of vaccination status.
Read more here.
---
Texas
The Texas House finally reached a quorum on Thursday after not having enough lawmakers present to do business for nearly six weeks.
Read more here.
---
Virginia
Lawmakers in Virginia have begun discussing ways to speed up the three year delay that currently exists between when marijuana was legalized last month in the state and when retail sales will begin.
Read more here.
---
Don't Forget This Week's Updates!
---