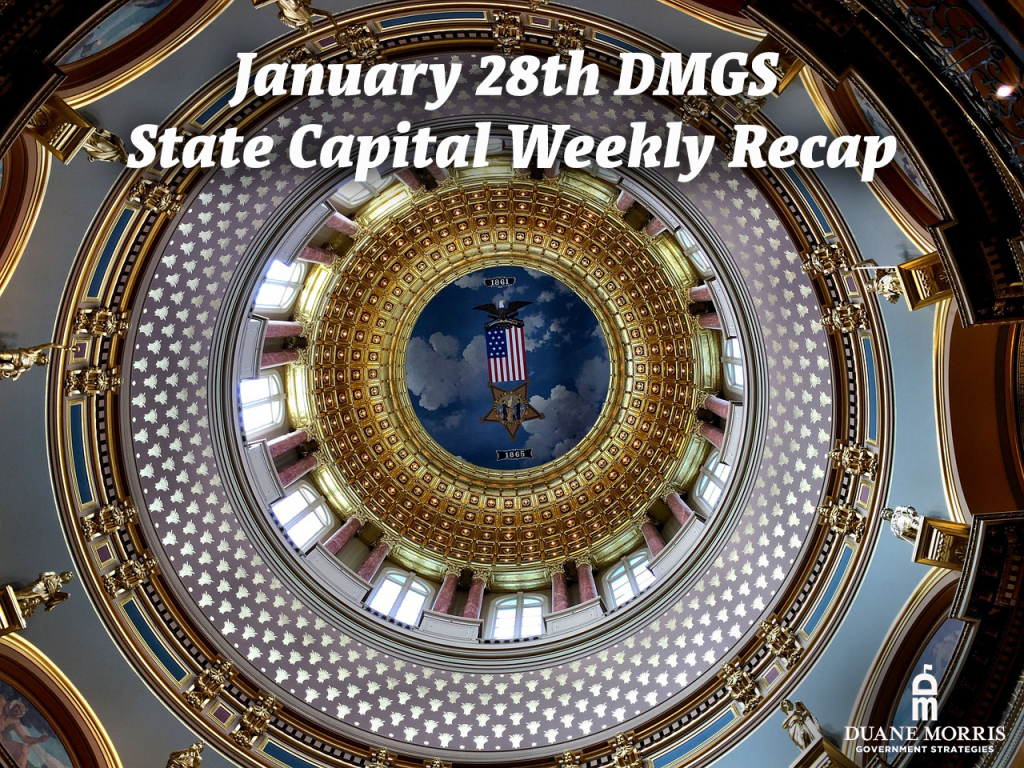 Like every other week so far in January, this week saw no shortage of action by lawmakers around the country. Hot-button issues such as election reform, abortion access, vaccine mandates, and sports betting dominated headlines. In addition, DMGS covered various topics in the last few weeks such as newly signed legislation and executive orders around the U.S., a state of the state update, federal cannabis, and automated speed enforcement.
---
Arizona
State lawmakers began the process Monday of making major and minor alterations in state election laws when the GOP controlled Senate Government Committee approved legislation related to paper ballot security requirements, requiring images of every ballot be made public, and mandating automatic recounts in elections where the margin of victory is less than 0.5%, up from the current 0.1% threshold.
Learn more here.
---
California
State lawmakers in California introduced legislation earlier this week that would ban single-use tobacco products.
Learn more here.
---
Colorado
GOP state lawmakers in Colorado say they want to look at cleaner power generation, but instead from wind and solar energy, they're looking at nuclear and hydroelectric power.
Learn more here.
---
Connecticut
Lawmakers in Connecticut are pushing to expand abortion access in the state as the U.S. Supreme Court weighs the future of the landmark Roe v. Wade ruling, while abortion opponents are promising to fight back.
Learn more here.
---
Indiana
Indiana's legislative session is in full swing as lawmakers are already debating issues ranging from vaccine mandates to guidelines on school curricula.
Learn more here.
---
Iowa
Various legislation introduced by Iowa lawmakers this week would change how teachers teach social studies at public schools in the state.
Learn more here.
---
Massachusetts
Massachusetts Governor Charlie Baker earlier this week said he'd sign a bill to legalize sports betting in in the state if lawmakers pass such legislation this session as he finishes his second term.
Learn more here.
---
Michigan
Earlier this week, the Michigan House passed new distracted driving legislation that aims to modernize the state's current distracted driving laws.
Learn more here.
---
Pennsylvania
One Pennsylvania GOP lawmaker said he's planning to introduce a bill next month that would allow workers with natural immunity to avoid workplace mandates if they're able to prove they have sufficient antibodies through a blood test conducted by a state-certified lab.
Learn more here.
---
Washington
Washington state lawmakers are grappling with ways to curb the recent spike in thefts of catalytic converters, which are the the emissions-control devices that contain precious metals which can be sold for scrap.
Learn more here.
---
Wisconsin
The Wisconsin Assembly approved legislation that would make legal changes to current law to allow dogs in stores that sell prepackaged foods. Current law prohibits dogs from entering businesses that sell food due to contamination concerns, but this legislation would allow dogs in businesses only if their food sales comprise less than 5% of their sales.
Learn more here.
---
This Month's DMGS Posts
Capital and Capitol Happenings: Staff on the Move, Promotions, and More
Edward Briggs: new Vice President of Government and Community Relations, RSA Consulting Group, LLC
Enrique Marquez: new Chief of Staff, Texas Speaker Dade Phelan
Clayton Stewart: new VP of Public Affairs and Chief Lobbyist, Texas Medical Association
Eric Blackwell: new Senior Manager, Government Affairs, NRG Energy
Zeenat Yahya: new Director of Policy, March For Our Lives
Sally Rose Larson: new VP, Government Relations, The Digital Media Association
Kirsten Barlow

: new Vice President of Public Policy, California Hospital Association

Timothy Johnson: new Manager, State and Local Government Affairs, Google Cloud
---
Happy Birthdays This Week
Hank Dempsey: Head of Public Policy – Western States, Snap Inc.
Brandon Vaughan: Senior Program Specialist, National League of Cities
Kristin Nash: Vice President, Ignite Strategies
Alexandra Altman: Deputy Press Secretary & Communications Strategies, Office of Governor Phil Murphy
Email future suggestions to rjstevens@dmgs.com
---