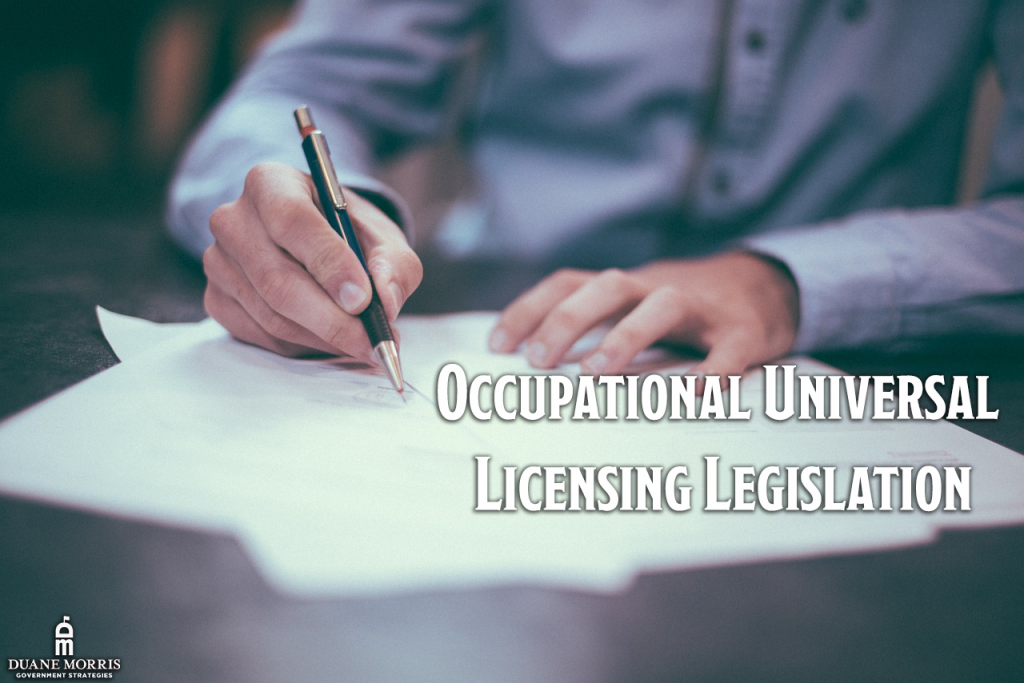 Occupational licensing is a government-regulated licensing process required for individuals to work in certain professions.  Licensing laws differ by state, but all mandate some form of training, testing, education, or any associated fees along state guidelines before workers can begin a job in a specific field.  States and localities enact such regulations to ensure universal standards and high-quality services across states and mitigate untrained workers' health and safety risks in high-risk professions.  However, because state legislatures often establish licensing laws independently, there are significant disparities in state licensing burdens. In turn, many lawmakers around the country have begun looking at various pieces of universal licensing legislation.
While licensing laws can ensure high-quality services and prevent harm to the public, excessively burdensome job requirements can create barriers to employment for low-risk workers.  To streamline this process, Arizona first passed a bill in 2019 that would recognize out-of-state occupational licensing for individuals establishing residency in Arizona.  As of 2021, more than a dozen states have passed or are considering universal licensing legislation.
---
Arizona Becomes First State to Pass Universal Licensing Bill
In April 2019, Arizona Governor Doug Ducey signed into law HB 2569, establishing Arizona as the first state in the country to recognize universal occupational licensing. Before the bill, regulated professions only recognized licenses obtained in Arizona.
According to the bill, Arizona must issue an occupational or professional license if a licensee establishes residency in the state and "the person is currently licensed or certified in at least one other state in the discipline applied for and at the same practice level as determined by the regulating entity." Under the bill, the person can also obtain an Arizona occupational license if he or she has been certified or licensed in another state for at least one year.
---
South Dakota Universal Licensing Bill Signed by Governor
In January 2021, occupational licensing reform legislation was introduced in the South Dakota House of Representatives. Like the Arizona legislation, HB 1077 would adopt universal licensure and recognize out-of-state occupational licenses and certifications in South Dakota.
According to the bill, residents currently residing in the state may obtain a license or certification to practice in South Dakota if they hold a license in good standing in another state, territory, or country with substantially equivalent licensing requirements. Applicants must also demonstrate competency in a profession to the state licensing board, complete other state-required educational tests, and pay all applicable fees.
The bill also adds a new section to existing occupational licensing law, permitting a licensing board to issue a provisional license or certification while the applicant satisfies the remaining requirements for a permanent license. The provisional license is valid if the board does not deny the applicant permanent licensure, the provisional license has not expired, and the applicant complies with all board terms and regulations.
The bill passed the South Dakota House and Senate with 67 yeas and 3 nays and 34 yeas and 1 nay, respectively. South Dakota Governor Kristi Noem signed the bill into law on February 23, 2021.
---
Mississippi Governor Signs Most Recent Universal Licensing Bill
On March 25, 2021, Mississippi Governor Tate Reeves signed universal licensing legislation, HB 1263, into law, making Mississippi the most recent state to adopt universal licensing.  The law went into effect in early July 2021.
According to the bill, Mississippi occupational licensing boards must issue an occupational license to an applicant who currently resides in the state if the person has held a license or certification in good standing in another state, has been licensed for at least one year, and satisfies other requirements. The bill also provides that individuals who were not required to obtain a license for a particular profession in another state or held a private license for that profession can obtain a state-issued license in Mississippi if they meet all state licensing board requirements.
The bill passed in the Mississippi State House and Senate with 115 yeas and 1 nay and 51 yeas and 1 nay, respectively.
---
North Carolina Governor Signs Therapy Universal Licensing Bill
In June 2021, North Carolina Governor Roy Cooper signed HB 224 into law, expanding licensed occupational therapists' ability to practice across state lines. Both legislative chambers passed the bill unanimously, 119-0 in the House in March and 46-0 in the Senate in May.
North Carolina joins an interstate compact organized by the American Occupational Therapy Association and the National Board for Certification in Occupational Therapy. The compact recognizes occupational therapy licenses in other states for its members. This means that therapists would be allowed to practice in other states if they are part of the compact, and those who move to new states would more easily obtain a new license.
Additionally, the bill and the compact make an exemption for spouses of active duty military members so that they can practice in the state they are stationed in while maintaining their occupational license in their home state.
---
New Jersey Revision and Immigration Status Exemption Bills
In 2018, New Jersey Governor Phil Murphy signed Assembly Bill 1531 into law, revising the state's occupational licensing procedures. Unlike Arizona, the New Jersey bill did not create a "shall issue" clause based on residency.
Instead, A1531 allows boards to issue occupational licenses to out-of-state applicants who pay an application fee and consent to a criminal history record background check. Additionally, the individual's original license must have requirements substantially similar to that of New Jersey's, they must have held their license for at least five years, and they must be in good standing with a home state's current licensing board.
In September 2020, Governor Murphy signed S2455 into law. The bill prohibited lawful presence in the United States as a qualification for obtaining an occupational license or certification if the person meets all other requirements. Effective immediately upon passage, undocumented immigrants can no longer be barred from obtaining an occupational license or certification based on their immigration status in New Jersey.
---
Don't Forget: Last Week's State Capital Weekly Recap!
In last week's State Capital Recap, lawmakers around the country addressed various issues including guaranteed income, medical and recreational marijuana, critical race theory, to-go cocktails, and more.
---