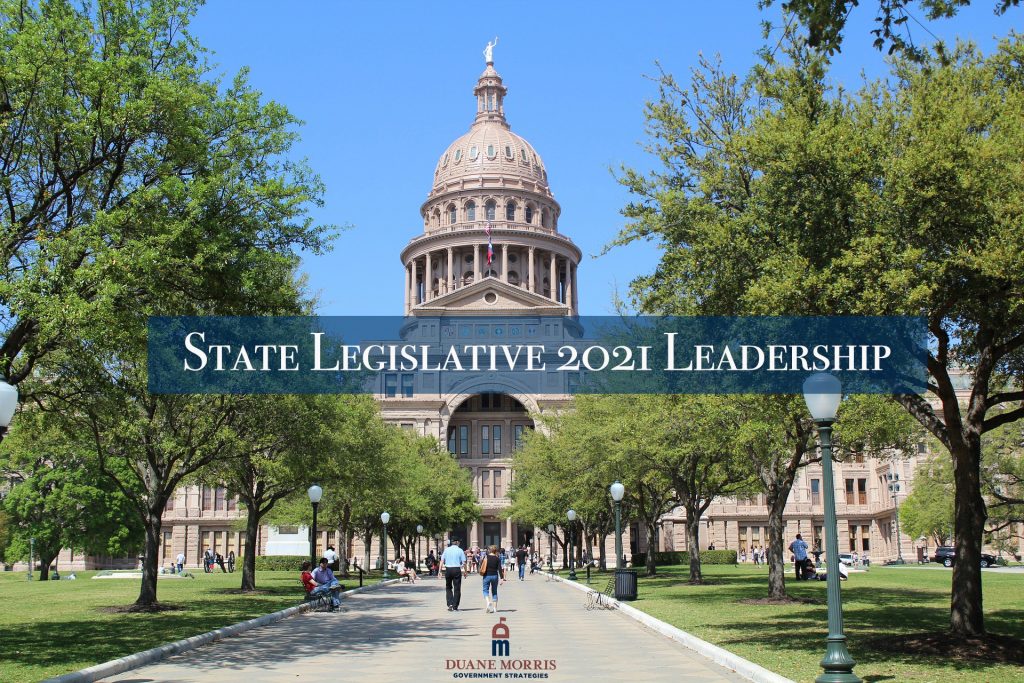 As the dust settles from the 2020 elections, state lawmakers will elect new leadership for 2021 sessions. Familiar faces are continuing in their legislative leadership roles in some states, while new leaders appear in others.
Connecticut
Connecticut has a new House Speaker in Matt Ritter. Ritter previously served as Majority Leader; Jason Rojas will replace Ritter in that role. The House Republican Caucus will now be led by Vin Candelora, formerly the Deputy Leader under the retiring Republican Minority Leader, Themis Klarides.
Republicans will also have new leadership in the State Senate. State Senator Kevin Kelly is the new Senate Republican Leader, replacing the retiring Republican Leader Len Fasano. The Democratic Caucus re-elected Martin Looney as Senate President and Bob Duff as Senate Majority Leader.
Connecticut state lawmakers will begin the new session on Wednesday, January 6.
Texas
Texas will have a new House Speaker following Rep. Dennis Bonnen's retirement. State Representative Dade Phelan (R) announced in early November he had the votes to become the next Speaker.
Texas lawmakers will convene the 87th legislative session on January 12. The session will last 140 days until May 31. Lawmakers will not convene again until the next session in 2023, unless the governor calls lawmakers into a special session.
Ohio
Ohio State Senator Kirk Schuring will be the new Senate Majority Floor Leader for the next legislative session, taking the place of Senator Matt Huffman, who will become the new Senate President. Senator Jay Hottinger will serve as Senate President Pro Tempore.
Representative Bob Cupp was re-elected to continue serving as House Speaker. In July 2020, Cupp replaced former Speaker Larry Housholder, who was ousted because of federal racketeering charges. Representative Tim Ginter was announced as the Speaker Pro Tempore, and Representative Bill Seitz was announced as the Majority Floor Leader for the new session.
The Ohio Legislature will begin its next legislative session on January 4.
Florida
State lawmakers convened for an Organization Session on November 17 to organize and select new officers. Republican Chris Sprowls was elected as the new House Speaker and laid out an expansive agenda for the next session, which Sprowls acknowledged will be preoccupied with COVID-19. Sprowls' leadership team will include Representative Michael Grant as the Republican Leader and Representative Bryan Avila as the Speaker Pro Tempore. The Senate has a new president in Senator Wilton Simpson.
Democratic senators chose Senator Gary Farmer as their Leader. At the same time, House Democrats did something different this year in naming co-leaders: Reps. Bobby Dubose and Evan Jenne.
Sunshine State lawmakers will begin their new session on March 2.
Georgia
Georgian Republicans re-nominated David Ralston for a sixth two-year term as House Speaker. The full House is likely to choose Ralston in January. Republican State Representative Jon Burns was likewise re-elected as House Majority Leader. Representative Jan Jones was selected again to serve as Speaker Pro Tempore. Democratic House lawmakers selected Representative James Beverly to be the new House Minority Leader. Beverly will replace former Minority Leader, Representative Bob Trammell, who lost re-election.
The Georgia State Senate Democratic Caucus needed a new Minority Leader following Senator Steve Henson choosing not to run for re-election after ten years as the Democratic Leader and 26 years in the State Senate. Senator Gloria Butler is the new Democratic Leader. Senate Republicans will elect their leadership on November 20.
Indiana
In Indiana, the 2021 legislative session began with Organization Day on November 17. Representative Todd Huston will remain Indiana's House Speaker heading into the 2021 legislative session. Huston was first elected Speaker in March to fill the remaining term of former House Speaker Brian Bosma (R). Huston outlined the legislative priorities for the session: passing a "responsibly balanced state budget"; investing in education, broadband, and public health; focusing on reducing health care costs; increasing educational opportunities; supporting liability protections for businesses; criminal justice reform; and passing a long-term energy plan.
House Republicans re-elected Representative Greg Steuerwald as Majority Caucus Chair and Representative Matt Lehman as Majority Floor Leader. Meanwhile, the House Democratic Caucus chose Representative Phil GiaQuinta as the Democratic House Leader and Representative Cherrish Pryor as the Floor Leader.
In the Indiana Senate, the majority Republican Caucus re-elected Senator Rodric Bray as Senate President Pro Tempore and Senator Mark Messmer as Majority Leader. Senator Travis Holdman replaced Senator Jim Merritt as Majority Caucus Chair. Meanwhile, the Senate Democratic Caucus selected Senator Greg Taylor to serve as the Caucus Leader, becoming the first Black Leader of an Indiana party caucus.
Pennsylvania
Pennsylvania's State Senate President Pro Tempore Joe Scarnati is retiring at the end of the current session. Republicans nominated Senator Jake Corman, the current Senate Majority Leader, to take Scarnati's spot. The full Senate will vote on Corman's nomination when it returns to session in January. Taking Corman's place as Majority Leader will be Senator Kim Ward. The Democratic Caucus selected Senator Jay Costa to continue as Senate Minority Leader.
State House Republicans nominated current House Speaker Bryan Cutler to continue serving. Like Corman, the full House must approve Cutler in January. Cutler first ascended to the speakership earlier this year following the resignation of former Speaker Mike Turzai. When Cutler became House Speaker, Representative Kerry Benninghoff took Cutler's spot as House Majority Leader. Republicans selected Benninghoff to continue in this position for the next legislative session.
The House Democratic Caucus selected Representative Joanna McClinton to be the Caucus' next Leader, replacing long-time Representative Frank Dermody who lost re-election. Representative McClinton and Senator Ward both made history in becoming Pennsylvania's first women to serve as floor leaders.
Lawmakers will meet for the 2021-22 legislative session in early January.
South Dakota
South Dakota's State House will have new leadership heading into 2021. Representative Spencer Gosch will become the new House Speaker, replacing Representative Steven Haugaard. Representative Jon Hansen will replace Gosch as Speaker Pro Tempore. The new Republican Majority Leader will be Representative Kent Peterson, who replaces Representative Lee Qualm. Current Democratic Minority Leader, Representative Jamie Smith, is one of only eight Democratic legislators in the next session.
In the South Dakota Senate, Senator Lee Schoenbeck will serve as Senate President Pro Tempore next session, alongside Republican Majority Leader Senator Gary Cammack. With only three out of 35 members in the Senate, Senator Troy Heinert will continue as Minority Leader.
---