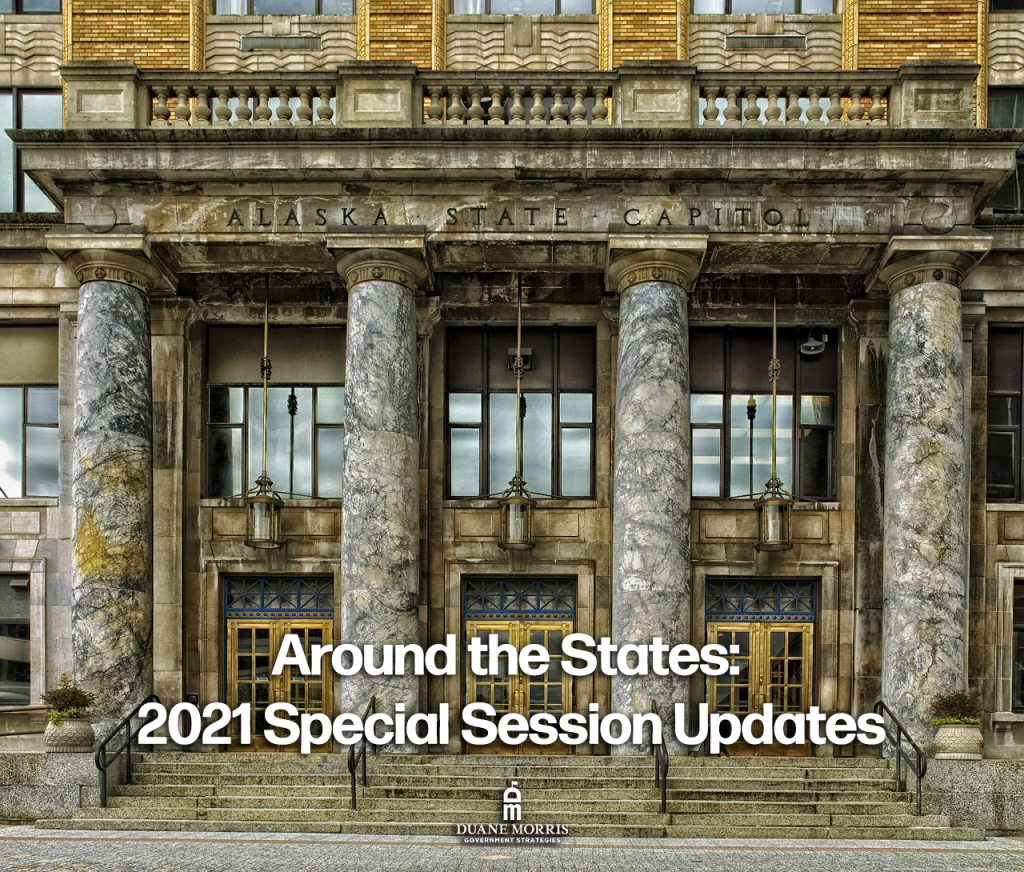 Some state legislatures may be called into "special sessions" to address specific policy topics in addition to regular legislative meetings.  In 14 states, only governors may call special sessions.  In the other 36 states, the governor or the Legislature may call for a special session.  Each state has its own rules on the exact process for calling a special session, and there are currently three state legislatures convened in a special session.
During the COVID-19 pandemic, there has been a rise in the number of special sessions to address various issues such as spending federal COVID relief dollars, COVID public health requirements, unemployment, and more.
---
Alaska
In late September, Governor Mike Dunleavy called the Alaska Legislature into a fourth special session on October 4th.  The Legislature is to consider:
An act making appropriations for a supplemental 2021 Permanent Fund Dividend (PFD) for eligible Alaskans;
An Act or acts relating to the Permanent Fund Dividend program;
SJR 6, HJR 7, or similar resolutions proposing amendments to the state Constitution relating to the Alaska Permanent Fund;
SJR 5, HJR 6, or similar resolutions or acts proposing amendments to the state Constitution relating to an appropriation limit;
An act or acts relating to measures to increase state revenues.
For some context, Alaska state lawmakers have battled for the last six years on the size of payments from Alaska's trust fund, the PFD.  Dunleavy asked lawmakers to pass a constitutional amendment to guarantee future dividends and pay them according to a new formula.  Any constitutional amendment, if passed by lawmakers, would go to voters in the November 2022 election.
---
Florida
On October 21st, Governor Ron DeSantis called for a special session of the Florida Legislature to "provide protections for employees" related to COVID-19 vaccination requirements.  Specifically, DeSantis is asking state lawmakers to pass laws that would ban employers from firing employees who refuse to obtain a COVID-19 vaccine. DeSantis is also asking the Legislature to reaffirm that government entities, such as school districts, are not allowed to fire anyone based on their failure to receive a COVID vaccination.  DeSantis is calling for the special session as a response to the U.S. Government's recent announcement that the Occupational Safety and Health Administration (OSHA) is developing a rule that would require all employers with 100 or more employees to ensure their workforce is fully vaccinated or require any workers who remain unvaccinated to produce a negative test result on at least a weekly basis before coming to work.
DeSantis also asked lawmakers to address school masking requirements for students and allow parents to opt their children out of such public health measures.
---
Tennessee
The Tennessee General Assembly just wrapped up one special session and is currently in another one.  In late September, Governor Bill Lee called on state lawmakers to convene in a special session in mid-October to address funding, buildout, and oversight of the Ford Motor Company's $5.6 billion investment in the state after Ford announced it selected a "megasite" in the state for its "Blue Oval City" project which will be one of the largest battery and vehicle manufacturing campuses in the country.  Specifically, the production of all-electric F-series Ford trucks would occur at the megasite, creating a projected 27,000 direct and indirect jobs.
Lawmakers ended up finalizing an $884 million spending package that includes $500 million in tax incentives (capital grants) to Ford and an additional $384 million on infrastructure projects, workforce development, authority expenses, and more services.  The state had an FY 2021 surplus of $2.1 billion, from which the Legislature will spend the $884 million for the Ford development.
While Governor Lee called the Ford special session, lawmakers called for another special session to start on October 27th to address COVID-19 public health measures.  Issues to be addressed may include the governor's emergency powers, COVID vaccination requirements, and masking requirements.  This is only the third special session in the history of Tennessee to be initiated by the Legislature, the first two occurring in 1971 and 1982.
---
Texas
The Texas Legislature holds its regular legislative session every other year in odd-numbered years.  While its regular session has already ended, Texas just wrapped up its third special session of the year.  On September 7th, Governor Greg Abbott announced that he would convene the Legislature for a third special session on September 20th.
Abbott's initial proclamation included five agenda items, including redistricting, appropriating federal funding from the Biden-Harris American Rescue Plan Act of 2021, legislation banning transgender students from competing in University Interscholastic League athletic competitions, legislation related to state and local government COVID-19 vaccination requirements and providing for any exemptions, and legislation addressing Abbott's concerns over last session's Senate Bill 474, which would codify humane treatment of dogs, that the Legislature passed.
Abbott later announced additional items to be covered, including legislation providing for property-tax relief, legislation proposing a constitutional amendment related to denying bail, higher education improvements, and increasing penalties for illegal voting.  Abbott also issued an executive order prohibiting vaccination requirements by any entity and added that as an agenda item to codify his executive order.
By the time Texas lawmakers wrap up, they could accomplish many, but not all, of the items on the agenda.  Notably, lawmakers developed a plan to spend federal COVID relief dollars, approve a new congressional map, and pass a constitutional amendment to raise the state's homestead exemption for school property taxes from $25,000 to $40,000.  The constitutional amendment addresses the goal to pass some form of property tax relief and will go to the voters in May of 2022.
Notably, lawmakers did not advance legislation furthering Abbott's executive order on vaccination requirements and his calls for increasing illegal voting penalties.
---
West Virginia
Governor Jim Justice issued a proclamation convening the West Virginia Legislature into a special session on October 11th to address redistricting, among other topics.  Lawmakers passed, and Governor Justice signed, three bills related to redistricting: one for House districts, one for Senate districts, and one for congressional districts.
Another notable bill passed was House Bill 335, which mandates that employers provide exemptions to any employment-conditioned COVID-19 vaccination requirements.  The bill mandates medical and religious exemptions, and the legislation also bans employers from penalizing or discriminating against current or prospective employees for exercising exemptions.
Lawmakers also passed House Bill 339, which created the Broadband Development Fund.  Under the bill, monies in the fund may be used on the following:
Expenses for administering the Office of Broadband;
Line extension advancement and development projects, including expanding existing fiber and cable networks;
Major broadband project strategies, including new networks or significant expansions of current networks;
GigReady incentive projects, including a state incentive for ISP and local governments and organizations to pool together some of their federal American Rescue Plan monies or other local funding; and
Wireless Internet Networks, including expanding or upgrading existing fixed wireless networks.
---