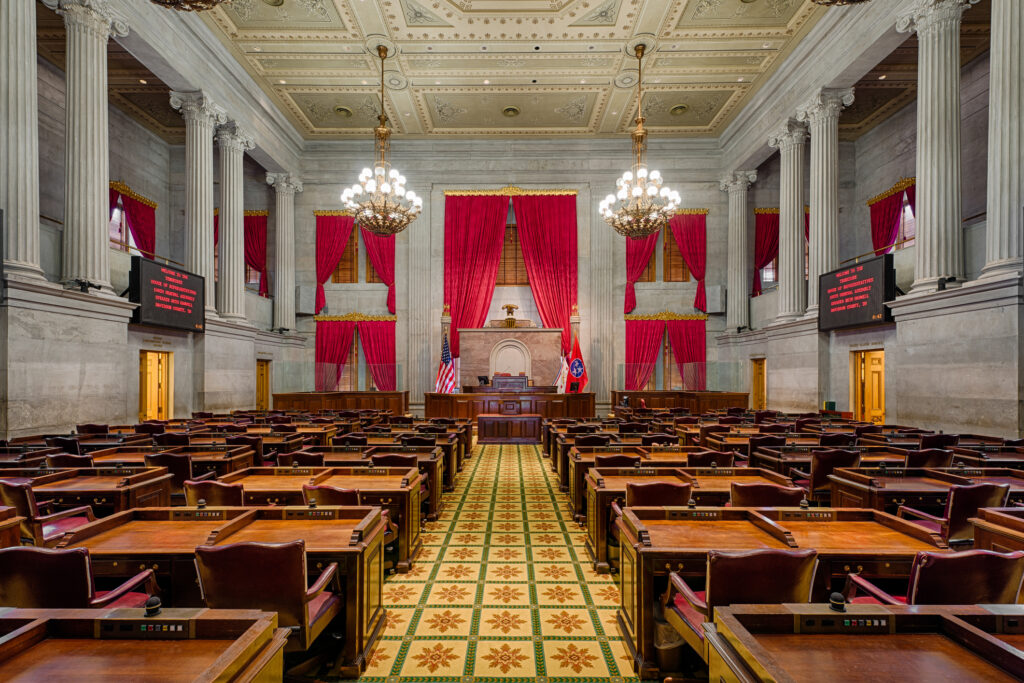 On August 8, Tennessee Governor Bill Lee (R) proclaimed a special session, set to convene on August 21. The announcement came after the shooting at The Covenant School in Nashville in March 2023; six people, including three children, were killed in the tragedy. According to Governor Lee, the August 2023 Tennessee special session aims to "​​protect communities while preserving the constitutional rights of law-abiding citizens" in response to the Covenant shooting and growing concerns over gun violence and mental health issues.
In the proclamation, Governor Lee outlined a comprehensive set of legislative and budget priorities that reflect a holistic approach to public safety, including law enforcement support, mental health initiatives, firearm storage education, and combating human trafficking.
---
2023 Tennessee Special Session Priorities
The administration's package for the special session includes several key proposals aimed at achieving comprehensive public safety improvements:
Codification of Executive Order 100 and TBI Report Implementation: Seeks to address the barriers identified by the Tennessee Bureau of Investigation (TBI) related to timely and accurate information sharing. EO 100 required mandatory crime reporting within 72 hours. Governor Lee seeks to codify it to help ensure accurate and timely information exchange, enabling law enforcement to respond more effectively to incidents and prevent further criminal activities.
TennCare Mental Health Coverage Waiver: Aims to expand mental health and substance use treatment coverage through a federal matching funds waiver for the state's Medicaid program.
Addressing Mental Health Workforce Challenges: Allocates increased spending to support the recruitment and retention of mental healthcare workers to ensure an adequate mental health workforce to support Tennesseans.
Reforms for Mental Health: Eliminates some collaborative practice requirements for Advanced Registered Practice Nurses with psychiatric training, aiming to increase the availability of qualified professionals who can deliver timely and effective mental health care services.
Strengthening Felony Arrest Identification: Proposes collection of DNA and database storage at the time of felony arrest represents a pivotal advancement in law enforcement's ability to identify and prevent repeat offenses.
Human Trafficking Report: Directs the TBI to detail a comprehensive report on the state of human trafficking in Tennessee.
Promoting Safe Firearm Storage: Proposes proactive measures to promote firearm safety through eliminating taxes on firearm safes, providing free gun locks, and expanding safe storage training.
Within the potential scope of the session, Governor Lee also proposed language for an extreme risk protection order (what many are calling a 'red-flag law'), wherein temporary mental health protection orders may be established to allow courts to mandate confiscation of firearms from individuals identified as dangerous to themselves or others. However, this proposal has been met with significant backlash from gun rights interest groups.
House Majority Leader William Lamberth (R) proposed a bill requiring schools to train their students and staff on proper responses to active shooter and fire threats. The Senate Republican Caucus has also released a list of initiatives, including enhancing penalties for illegal firearm possession and threats of mass violence to Class C felonies.
Over 20,000 Tennesseans already submitted public comments on the proposed measures on the day of the proclamation. As Tennesseans engage in the conversation, the special session promises to be a forum for thoughtful deliberation and impactful decision-making that will shape the state's future.
The session is set to begin on August 21, 2023, at 4 pm CST.
---