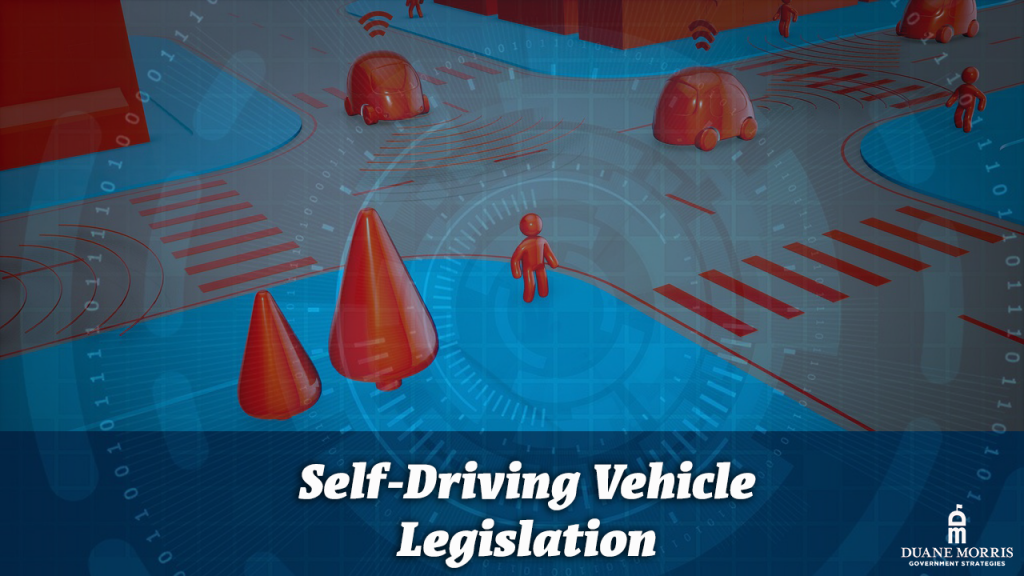 As we noted last year, autonomous vehicles (AVs) have automated driving systems that allow for self-driving, with little or no human input. While fully automated vehicles are not readily available at this point, lawmakers are already taking action to permit and regulate such vehicles via self-driving vehicle legislation.
---
California: Zero-Emission Self-Driving Vehicle Legislation
California lawmakers passed SB-500 last year, and Governor Gavin Newsom signed the bill into law. The bill requires, beginning on January 1, 2030, to the extent authorized by federal law, any AV with the model year of 2031 or later and a gross vehicle weight rating of fewer than 8,501 pounds shall only be operated if it is a zero-emission vehicle. The legislation goes along with California's climate change goals, including 5 million zero-emission vehicles by 2030 and all new passenger vehicles to be zero-emission vehicles by 2035.
California previously passed legislation in 2012 establishing conditions for the operation of automated vehicles in California. In 2014, California adopted regulations for testing AVs on public roads requiring a test driver and established an application and approval process for a testing permit. By 2018, the DMV in California adopted testing regulations for AVs without a driver at the wheel and for the deployment of AVs in the state.
---
Hawaii: Autonomous Transportation Task Force
Hawaii lawmakers introduced SB 1008 in January of 2021, and the bill has since been carried over to the 2022 regular session. The bill would establish a permanent autonomous transportation task force within the Department of Transportation to prepare Hawaii for the adoption and use of AVs and make recommendations to the state legislature to assist with the transition. The self-driving vehicle legislation's task force would:
Examine the ongoing implications of transitioning to a future in which all vehicles are autonomous;
Examine the impact on public infrastructure needs in a future in which all vehicles are autonomous;
Make recommendations to assist with the transition as autonomous transportation becomes a growing percentage of daily commutes; and
Make recommendations relating to AVs' legal and insurance coverage implications as autonomous transportation becomes a growing percentage of daily commutes.
---
Nebraska: Study to Examine AVs
Nebraska lawmakers introduced LR 155, which would task the legislature's Transportation and Telecommunications Committee to conduct an interim study to examine a list of issues related to the operation of AVs in Nebraska. Issues that would be examined include, but are not limited to:
Automated vehicle classifications;
Testing of automated vehicles;
Automated vehicle registration, titling, and branding;
Financial responsibility;
Federal, state, and local safety standards;
The role of a driver and passengers or occupants in an AV;
Training for consumers, examiners, driver education instructors, and driver schools;
Distracted driving;
AV use in criminal activity;
First responder safety and AV response to emergency vehicles;
Liability for AVs;
Autonomous commercial motor vehicles;
Cybersecurity; and
Highway and other infrastructure utilized by AVs.
---
New Jersey: Various Self-Driving Vehicle Legislation
As noted in our previous update, New Jersey lawmakers passed Assembly Joint Resolution 164 in 2019, which created the New Jersey Advanced Autonomous Vehicle Task Force to study advanced AVs and recommend laws and rules.
Various AV bills have already been introduced in the current legislative session. A1189 would establish a fully autonomous vehicle pilot program in the Garden State. Specifically, the bill tasks the New Jersey Motor Vehicle Commission (MVC) to consult with the Department of Transportation to establish a one-year pilot program – the New Jersey Fully Autonomous Vehicle Pilot Program – to allow AV testers to operate fully autonomous vehicles on New Jersey's highways. The Commission would require an AV tester to apply for approval to participate in the pilot program and only be allowed to test or operate AVs if the Commission has authorized the tester to do so.
A1810 would permit AVs' testing and use on state roadways under certain circumstances. Specifically, the bill would allow for AVs to be operated on any public highway, road, or street within New Jersey for testing purposes by an operator who possesses the proper class of license (as determined by the MVC) if:
The AV is being operated on a public highway, road, or street in New Jersey solely by employees, contractors, or other persons designated by the autonomous technology or vehicle's manufacturer;
The operator is seated in the driver's seat, monitoring the safe operation of the AV and can take over immediate manual control of the AV in the event of technology failure or other emergency; and
Prior to the start of testing, the manufacturer performing the testing obtains an instrument of insurance, surety bond, or proof of self-insurance in the amount of $5 million and shall provide evidence of such in a form and manner determined by the MVC.
A2030 would task the New Jersey MVC with establishing a driver's license endorsement for the operation of AVs on the highways, roads, and streets of New Jersey. Under the bill, a person could operate an AV in autonomous mode unless they obtain an endorsement on their driver's license to operate an AV. The bill further gives the MVC's Chief Administrator the authority to adopt regulations authorizing the operation of AVs on highways, roads, and streets in New Jersey.
---
Pennsylvania: Self-Driving Vehicle Legislation Passes Committee
Legislation to address highly autonomous vehicles passed the Pennsylvania Senate Transportation Committee on January 26. Senate Bill 965 would permit highly autonomous vehicles to operate without a natural person while maintaining pedestrian, occupant, and overall traffic safety. Pennsylvania's current law requires a natural person to drive or physically control a vehicle.
The bill defines a "highly automated vehicle driver" as someone who performs all or part of the dynamic driving task for a highly automated vehicle located onboard in the driver's position or a remote location and is an authorized affiliate, employee, or contractor of the owner of the highly automated vehicle.
SB 965's sponsor, Senator Wayne Langerholc (R), previously noted a study that concluded the highly automated vehicle sector is projected to transform into a $1 trillion global market by 2026 with 5,000 projected new jobs and a $10 billion impact for southwestern Pennsylvania in particular.
---
Federal Autonomous Vehicle Update
In addition to states' patchwork approaches to regulating AVs, the federal government continues to search for a national regulatory framework for the technology. The U.S. House's Subcommittee on Highways and Transit is holding a hearing on AVs in the first week of February 2022. The hearing title is "The Road Ahead for Automated Vehicles" and will include experts, labor leaders, and industry representatives.
Congressional efforts to regulate autonomous vehicles have been bipartisan, but neither the House nor Senate have advanced varying AV legislation over safety concerns. In the Senate, Senate Minority Whip John Thune (R-S.D.) and Senator Gary Peters (D-Mich.) remain the most engaged senators on AVs. Peters and Thune were the main sponsors of the AV START Act, which the Senate failed to advance in 2018 after concerns around language on safety and security.
House Energy and Commerce Committee Chair Frank Pallone Jr. (D-N.J.) held a hearing on AV legislation in 2020. Since then, neither chamber has significantly developed AV legislation.
In the Biden administration, Transportation Secretary Pete Buttigieg has made clear his interest and focus on AVs, saying that "automated vehicle technology is coming, it is advancing very quickly, it is something that holds the potential to be transformative, and I think in many ways policy has not kept up" during his Senate confirmation hearing.
---