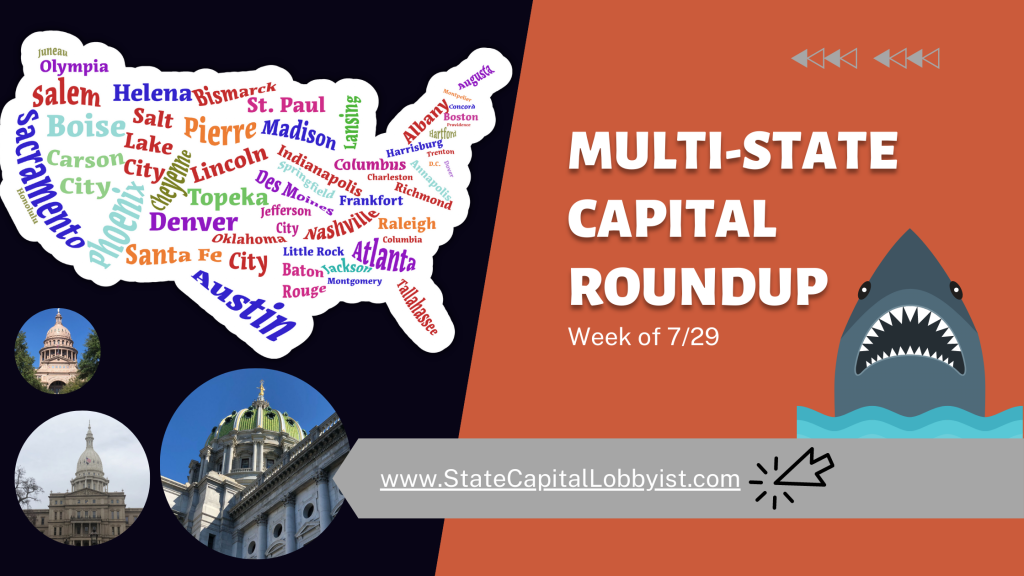 This week is shark week on the Discovery Channel and you can catch up on some shark-related legislation in one of DMGS' blog posts below. In other news, lawmakers and governors around the country remained busy this week on topics ranging from offshore wind to abortion.
---
DMGS Blog Posts This Week
---
Colorado
Lawmakers in Colorado are looking at measures to keep mobile parks affordable.
Learn more here.
---
Delaware
Governor John Carney this week signed multiple bills related to maternal and infant health which have goals to decrease infant and maternal mortality and expand services across Delaware.
Learn more here.
---
Florida
Governor Ron DeSantis this week encouraged Florida residents to save money on school supplies during a sales tax holiday from July 25 through August 7.
Learn more here.
---
Massachusetts
Governor Charlie Baker this week signed the FY23 budget, a $52.7 billion spending plan. The budget includes $315 million to support permanent tax reductions which are expected to be enacted through pending legislation.
Learn more here.
---
Michigan
Governor Gretchen Whitmer signed an executive directive instructing Michigan state departments and law enforcement agencies to utilize federal resources from the recently passed Bipartisan Safer Communities Act to reduce crime and gun violence.
Learn more here.
---
Missouri
Governor Mike Parson signed an executive order late last week calling on the state's Department of Natural Resources to activate the Drought Assessment Committee and associated drought impact teams.
Learn more here.
---
New Hampshire
Last week, Governor Chris Sununu signed two pieces of legislation boosting broadband access and coverage.
Learn more here.
---
New Jersey
The Garden State's top lawmaker in the Assembly, Speaker Craig Coughlin, announced this week his plans to hold a hearing to examine whether the ticket industry's practices are fair, in response to high ticket prices for Bruce Springsteen's upcoming tour.
Learn more here.
---
New York
Governor Kathy Hochul earlier this week announced the release of New York's third competitive offshore wind solicitation, which seeks enough clean, renewable energy to power at least 1.5 million New York homes.
Learn more here.
---
Pennsylvania
Four Pennsylvania universities said Wednesday they will follow through with tuition increases despite calls from House Republicans to roll back the price hikes.
Learn more here.
---
Rhode Island
Governor Dan McKee signed legislation which requires private health insurers to cover biomarker testing, which is a test of blood or other biological material to identify changes or abnormalities that could be associated with cancer.
Learn more here.
---
Utah
Earlier this week, Utah's Department of Alcoholic Beverage Services Commission approved a proposed administrative rule for sales of mini-bottles—50 ml. spiritous liquor and 187 ml wine in state-run and state-contracted liquor stores.
Learn more here.
---
West Virginia
Earlier this week, lawmakers in West Virginia advanced legislation severely restricting abortion.
Learn more here.
---
Capital and Capitol Happenings: New Positions, Promotions, and More
Erick Ford: new President, NJ Energy Coalition
Justin Capouellez: new Political Field Representative, PA Association of Realtors
Taylour Trostle: Community Relations Specialist, Carolina Complete Health
Happy Birthdays This Week
Brian Gamberini: Sr. Manager, State and Local Government Relations, Home Depot
Melissa Girty: Government Affairs Liaison, Pittsburgh Regional Transit
Alex Wirth: Cofounder and CEO, Quorum
Email future suggestions to rjstevens@dmgs.com.
---