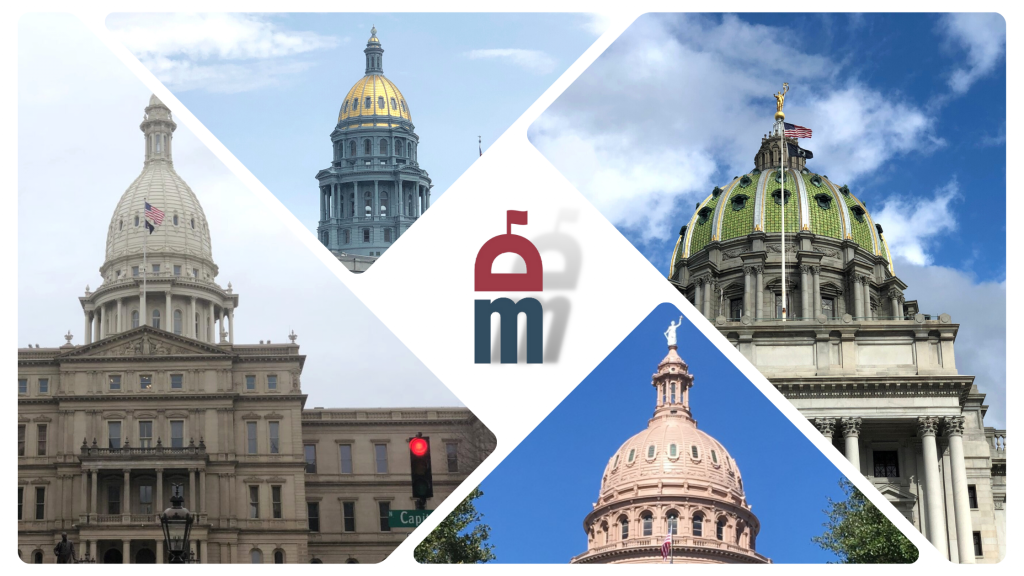 This week saw plenty of action in state capitals around the country, despite it being summer. A few notable states held their primary elections this week, including Alaska, where ranked-choice-voting was used for the first time in the state, and Wyoming, where U.S. Rep. Liz Cheney was defeated. Additionally, California's deadline to send legislation to the governor's desk is approaching, Colorado lawmakers are pushing wildfire prevention legislation, and the issue of open primaries vs. closed primaries is being discussed in different states.
---
Alabama
In Alabama, the state Republican Party approved a resolution urging the Alabama legislature to implement closed primaries.
Learn more here.
---
Alaska
On Tuesday, Alaska held their first ranked choice primary election for the races of Governor, U.S. Senate, and Alaska's lone U.S. House seat.
Learn more here.
---
Arizona
Arizona Governor Doug Ducey signed legislation that will make every K-12 student eligible for a new school voucher program.
Learn more here.
---
California
As the August 31st deadline to send legislation to the governor for the year approaches, here are some of the bills that California's legislature is considering.
---
Colorado
Some Colorado legislators are pursuing legislation to improve wildfire prevention.
Learn more here.
---
Connecticut
On Wednesday, Connecticut Gov. Ned Lamont announced that the state Department of Transportation has been awarded over $20 million in federal grant money to modernize part of the state's bus system.
Learn more here.
---
Florida
Gov. Ron DeSantis announced new legislation will be proposed for the 2023 legislative session to increase recruitment of teachers in the state.
Learn more here.
---
Georgia
Gov. Brian Kemp is allocating over $1 billion in federal COVID-19 dollars to help fund social programs in the state.
Learn more here.
---
Hawaii
Hawaii held primary elections on Saturday, including for governor.
Learn more here.
---
Idaho
A federal judge has decided whether or not the Idaho Legislature can intervene in the U.S. DOJ's lawsuit against Idaho's abortion ban.
Learn more here.
---
Illinois
The latest investment into the state's rainy day fund brought its balance to over $1 billion for the first time.
Learn more here.
---
Iowa
National surrogates on both sides of the aisle are flocking to the Iowa as the mid-term elections approach.
Learn more here.
---
Kansas
Kansas Gov. Laure Kelly nominated three individuals to fill vacancies on the Board of Regents, the state's higher education coordinating board.
Learn more here.
---
Kentucky
A group of students in Kentucky are urging state lawmakers to increase mental health resources in schools.
Learn more here.
---
Louisiana
Gov. John Bel Edwards, along with members of the Legislative Black Caucus and Senate Committee on Veterans Affairs participated in the groundbreaking of the first African American Veterans Monument in the state.
Learn more here.
---
Michigan
Michigan Gov. Gretchen Whitmer is proposing a sales tax break on back-to-school supplies as kids prepare to go back to school.
Learn more here.
---
Minnesota
Gov. Tim Walz announced about 90,000 more students in the state will be eligible for free school meals this upcoming year.
Learn more here.
---
Missouri
Gov. Mike Parson is meeting with lawmakers to gain support for his $700 million tax cut plan.
Learn more here.
---
Montana
Montana lawmakers will consider a special session to discuss potential state tax rebates.
Learn more here.
---
New Jersey
State Senators in New Jersey are proposing legislation that would ban the new LIV Golf league from holding tournaments in the state.
Learn more here.
---
New Mexico
A budget forecast in New Mexico is projecting that the state will receive $2.45 billion in unexpected revenue for the 2024 fiscal year.
Learn more here.
---
New York
Republican gubernatorial candidate Lee Zeldin is proposing a reversal on New York's ban on natural gas drilling, a policy that has been in place since 2014.
Learn more here.
---
North Carolina
A federal judge has reinstated North Carolina's 20-week abortion ban, passed originally in 2015.
Learn more here.
---
Ohio
Gov. Mike DeWine announced $42 million in new grant funding for local law enforcement.
Learn more here.
---
Oklahoma
Gov. Kevin Stitt granted a 60-day reprieve to an inmate on death row.
Learn more here.
---
Oregon
State lawmakers are working on bills to help fund billons of dollars in public school mental health resources for the 2023 legislative session.
Learn more here.
---
Pennsylvania
Gov. Tom Wolf issued an executive order discouraging conversion therapy and directing state agencies to further discourage such activity.
Learn more here.
---
Rhode Island
Gov. Dan McKee signed legislation on Wednesday to increase funding for programs that support Rhode Island senior citizens.
Learn more here.
---
South Carolina
The South Carolina Supreme Court temporarily blocked the state's six-week abortion ban.
Learn more here.
---
Tennessee
Gov. Bill Lee announced three new key officer and staff appointments.
Learn more here.
---
Utah
A judge in Texas is allowing a lawsuit against Utah's ban on transgender girls participating in girls sports to proceed, refusing to dismiss the lawsuit.
Learn more here.
---
Vermont
Gov. Phil Scott issued a 10-point plan to improve public safety and violence prevention.
Learn more here.
---
Virginia
Brewers in Virginia are planning legislation that would allow for self-distribution.
Learn more here.
---
West Virginia
Gov. Jim Justice declared a state of emergency Monday in two counties in response to damaging flash flooding.
Learn more here.
---
Wisconsin
Gov. Tony Evers announced a new $10 million grant program to help Wisconsin citizens who own private, contaminated wells they use as a water source.
Learn more here.
---
Wyoming
Wyoming held primary elections on Tuesday, including a nationally watched race for the state's at large congressional seat.
Learn more here.
---
This Week's DMGS Posts
---
Capital and Capitol Happenings: New Positions, Promotions, and More
Samantha Gibson: new Governmental Affairs Associate, Michigan Association of Counties
Ammon Simon: new Counsel to Commissioner Hester Perice, U.S. Securities and Exchange Commission
John Musso: new Government Affairs Manager, Arlington Chamber of Commerce
Sarah Kish Morgan: new Director, Government Affairs and Public Policy, S&P Global
Cory Dowd: new Legislative Affairs Director, Florida Department of Education
Marvin Deon: new Chief Legislative Representative, County of Los Angeles
Sean Neal: new Vice President, Advocacy & Political Affairs, American Osteopathic Association
---
Happy Birthdays This Week
Kristen Farry: Vice President of Policy and Government Relations, Woods Services
Meghan Hodge Groen: Senior Advisor to the Director, Michigan Department of Health and Human Services
Lauren Kimzey: Senior Manager, US State Government Relations, PayPal
Mallory Dunavan: Legislative Analyst – Government and Regulatory Affairs, SERVPRO
Matt Adams: Director – External Affairs, AT&T
Daniel Wanke: Director, Policy, American Trucking Associations
Email future suggestions to rjstevens@dmgs.com.
---