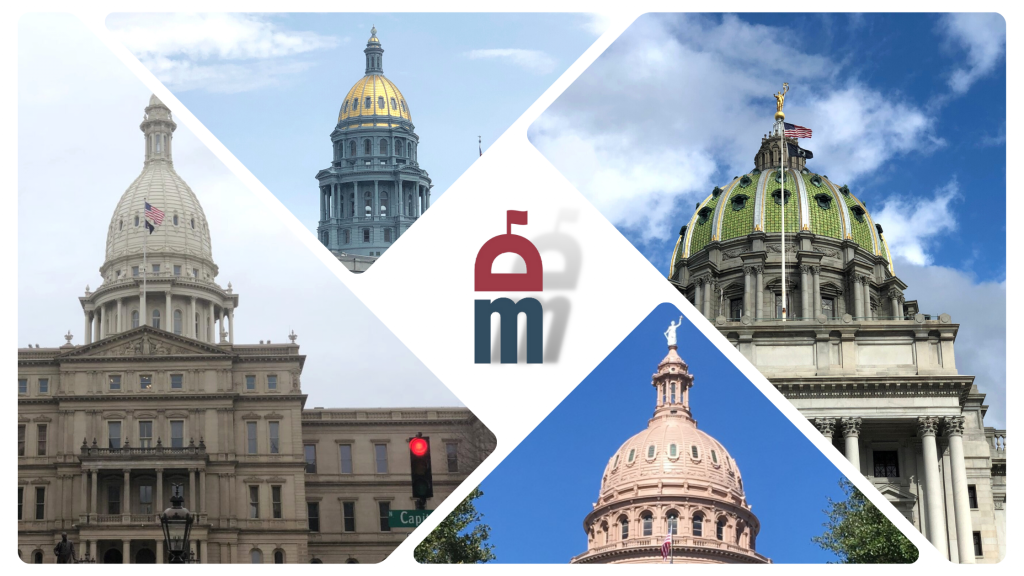 On August 24, 2022, President Joe Biden announced a sweeping package of federal student loan relief that forgives as much as $20,000 in loans. While this action and news dominated headlines this week, lawmakers and governors around the country were busy on other issues such as funding for recent flooding, potential tax cuts, droughts, and more.
---
Florida
Florida held their primary election on Tuesday, August 23rd for races including Governor, U.S. Senate, and several state row and cabinet positions.
Learn more here.
---
Kentucky
Gov. Beshear announced disaster benefits for victims of the recent environmental problems caused by the damaging late July storms.
Learn more here.
---
Louisiana
Gov. John Bel Edwards announced $100 million in federal funding to support new flood mitigation efforts in the state.
Learn more here.
---
Maine
Gov. Janet Mills announced $20 million in new grants to aid the state's agriculture industry.
Learn more here.
---
Michigan
Republican nominee for Governor Tudor Dixon announced former State Representative Shane Hernandez as her running mate.
Learn more here.
---
Minnesota
The State Board of Investment selected Jill Schurtz as the board's new Executive Director and Chief Investment Officer.
Learn more here.
---
Missouri
Gov. Parson announced a post Labor Day special legislative session to consider a $700 million tax cut.
Learn more here.
---
Mississippi
Public school advocates are bringing a lawsuit to challenge Mississippi's new legislation providing funding for charter schools.
Learn more here.
---
Montana
Gov. Greg Gianforte and state law enforcement held a press conference this week to discuss the growing fentanyl crisis in the state.
Learn more here.
---
Nebraska
Nebraska Secretary of State announced that an initiative to get medical marijuana measures on the November ballot fell short of the 86,776 required to make the ballot.
Learn more here.
---
Nevada
Nevada Gov. Steve Sisolak is asking the federal government for assistance in response to a worsening drought in the state.
Learn more here.
---
New Jersey
Gov. Phil Murphy announced $2 billion in new education funding.
Learn more here.
---
New Mexico
The Department of Finance and Administration this week announced a second round of recovery funds from the American Rescue Plan for local governments.
Learn more here.
---
New York
New York State lawmakers are considering legislation that would create a state personal income tax deduction of up to $5,000 for student loan payments.
Learn more here.
---
North Carolina
Gov. Cooper announced over $14 million in new federal funding to support postsecondary students and teachers.
Learn more here.
---
North Dakota
North Dakota lawmakers are considering a new flat income tax rate proposal from Gov. Doug Burgum.
Learn more here.
---
South Carolina
Lawmakers in South Carolina announced their intention to introduce legislation to increase the state's paid family leave policy.
---
This Week's DMGS Posts
---
Capital and Capitol Happenings: New Positions, Promotions, and More
Colleen Christy: new Chief of Staff, National Association of Water Companies
Bobby Joe Dale: new Policy Advisor, Texas Comptroller of Public Accounts
Abby Reynolds: new Strategy Associate, Greenhouse Partners
Craig Ryan: new Director, Government Relations, AAA- The Auto Club Group
---
Happy Birthdays This Week
Candice Doenges-Lozano: Government Affairs, Pace O Matic
Heather Way Kitzes: Assistant Director, Government & Community Affairs, Chicago Cubs
Gene Harrington: Director, State Government Affairs, Agriculture & Environment, Biotechnology Innovation Organization
Michelle Roth: Executive Director, Alabama Cable and Broadband Association
Mike Deering: Executive Vice President, Missouri Cattlemen's Association
James Wittrock: Legislative Director, California State Senate
John Walsh: President and CEO, Michigan Manufacturers Association
Email future suggestions to rjstevens@dmgs.com.
---