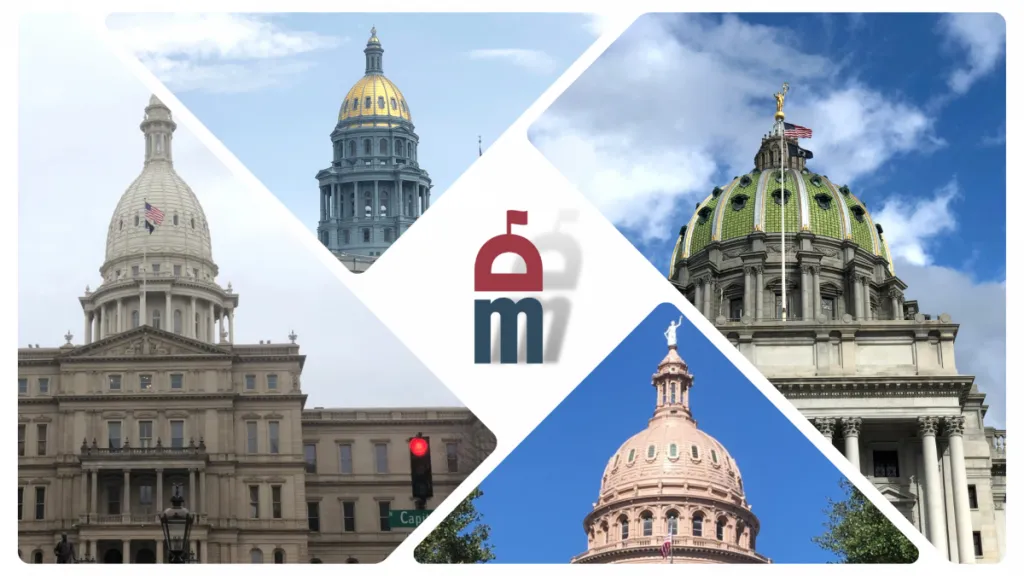 This week, several states, such as Connecticut, Illinois, Michigan, and Oklahoma, have given approval to varying tax relief measures. Additionally, different states have moved forward with bills to limit or obstruct the provisioning of gender-affirming medical care, while others are seeking to lift the wage cap for public sector employees.
Alabama
Over 170 faith leaders across Alabama have signed a letter requesting that Governor Kay Ivey (R) conduct an independent investigation into execution methods and protocols in the state.
Learn more here.
---
Alaska
Governor Mike Dunleavy (R) proposed expanding Medicaid coverage to increase mental health care for new mothers.
Learn more here.
---
Arkansas
The Arkansas House of Representatives approved a bill which would ban "adult-oriented" performers from performing to minors or on public property. The revised version of the bill no longer contains any specific mention of "drag shows."
Learn more here.
---
California
State Senator Nancy Skinner (D) has proposed a bill that would prohibit social media platforms from using algorithms to promote topics including ghost guns, fentanyl, harmful diet products, eating disorders, suicide, or social media addiction.
Learn more here.
---
Colorado
Governor Jared Polis (D) has issued an Executive Order which extends the state's disaster declaration of Covid-19.
Learn more here.
---
Connecticut
Governor Ned Lamont (D) has called for a reduction in income tax rates from 5% to 4.5%, in addition to increasing the Earned Income Tax Credit.
Learn more here.
---
Delaware
Governor John Carney (D) has recognized 10 small businesses in Delaware as winners and recipients of EDGE (Encouraging Development, Growth, and Expansion) grants.
Learn more here.
---
Florida
Florida's GOP-controlled Senate approved legislation on Friday to let the state take over the Reedy Creek Improvement District, which is the government body that has given Disney unique powers in Central Florida for over 50 years. Per the legislation, the district's existing board will be replaced by a five-member board hand-picked by Governor Ron DeSantis (R).
Learn more here.
---
Georgia
A House committee moved forward with a bill that would require the certification of solar panel installers by the state Public Service Commission.
Learn more here.
---
Idaho
An Idaho House committee has pushed forward a bill that would criminalize gender-affirming care including puberty blockers, hormones, and surgery for trans youth.
Learn more here.
---
Illinois
Democrat legislators are hoping that Governor J.B. Pritzker (D) will support a child tax credit of up to $700 per child in low and middle-income households. The bill is estimated to benefit about half of the children in Illinois.
Learn more here.
---
Indiana
Indiana's Office of Community and Rural Affairs signed a contract worth $50 million to expand high-speed internet to 19 rural counties in the state.
Learn more here.
---
Iowa
With tort reform being one of Governor Kim Reynolds's (R) highest priorities, Iowa's state legislature has approved a $1 million cap in lawsuits against doctors and clinics, and a $2 million cap on damages awarded in malpractice suits against hospitals.
Learn more here.
---
Kansas
Governor Laura Kelly (D) announced a total of $5 million in "Safe Streets and Roads for All" grant funding for 12 communities across Kansas.
Learn more here.
---
Kentucky
Governor Andy Beshear (D) has announced nearly $830,000 in funding and credits to fund the training of over 2,100 workers in the state.
Learn more here.
---
Louisiana
The state Senate has approved a $45 million package intended to solve Louisiana's property insurance crisis by incentivizing insurance companies to return to the marketplace.
Learn more here.
---
Maine
Advocates in Maine are lobbying for paid family leave and hope Maine will become the 12th state to enact paid family and medical leave benefits.
Learn more here.
---
Maryland
Maryland legislators filed legislation to impose taxes and regulations on marijuana products. Under the bill, marijuana products would be taxed at 6%, increasing one percentage point each year until 2028. The revenue from these taxes would go towards the state's Community Reinvestment and Repair Fund.
Learn more here.
---
Massachusetts
The state Senate has voted to eliminate term limits for the Senate's chamber president, a position currently held by Senator Karen E. Spilka (D).
Learn more here.
---
Michigan
Governor Gretchen Whitmer (D) and other legislators have reached an agreement on a series of tax cuts and direct inflation relief checks.
Learn more here.
---
Minnesota
Minnesota's House Public Safety Committee is considering a series of gun control bills that will include background checks, safe storage requirements, protocols for mandated reporting of missing firearms, and a "red flag" measure.
Learn more here.
---
Mississippi
Mississippi's state House of Representatives approved a bill that would create a new court system for Jackson, appointed by state officials instead of prosecutors and locally-elected judges.
Learn more here.
---
Missouri
Missouri's House Budget Committee has approved a measure that would increase pay for state workers by 8.7% in an effort to stop employee flight to the private sector, with exceptions for the governor and state legislators.
Learn more here.
---
Montana
Montana's House of Representatives has approved a bill which would allow medical providers to deny services on the basis of "ethical, moral, or religious beliefs and principles."
Learn more here.
---
Nebraska
Legislators in Nebraska have introduced a bill that would legalize limited forms and uses of marijuana.
Learn more here.
---
Nevada
Governor Joe Lombardo (R) has proposed a measure which seeks to retain workers by lifting the cap on state employee wages.
Learn more here.
---
New Jersey
Governor Phil Murphy (D) has signed a Temporary Workers Bill of Rights, which grants temporary workers rights to equal pay, and bans temp agencies from blocking workers from accepting full-time work at firms.
Learn more here.
---
New Mexico
New Mexico's Consumer and Public Affairs Committee has advanced legislation to ban ownership of assault weapons and high-capacity clips, and implement a 14-day waiting period for gun purchases.
Learn more here.
---
New York
State Senator Anthony Palumbo (R) has filed a lawsuit to force a Senate vote on Governor Kathy Hochul's (D) choice for state chief judge.
Learn more here.
---
North Carolina
North Carolina's Senate has approved a bill dubbed the "Parents' Bill of Rights," which would require schools to alert parents before calling children by different names or pronouns, and prohibit teachings on sexuality and gender identity.
Learn more here.
---
North Dakota
Governor Doug Burgum (R) signed a measure that would allocate $68 million to construct 13 technical education career centers across the state.
Learn more here.
---
Ohio
Governor Mike DeWine (R) has proposed a raise in eligibility caps from $69,375 per year to $110,000 per year for households eligible to receive tuition vouchers for private schools.
Learn more here.
---
Oklahoma
In his State of the State address, Governor Kevin Stitt (R) proposed the elimination of grocery taxes in the state, and a reduction of the income tax rate from 4.75% to 3.99%.
Learn more here.
---
Oregon
Governor Tina Kotek (D) is calling for the resignation of Oregon's Liquor and Cannabis Commission executive director for ethics violations in their position.
Learn more here.
---
Pennsylvania
A Pennsylvania Commonwealth Court has ruled that Pennsylvania's school funding system is unconstitutional and has charged Governor Josh Shapiro (D) and the legislature to come up with a solution.
Learn more here.
---
South Dakota
South Carolina's state House of Representatives has approved a measure which would prohibit the use of drop boxes for absentee ballots.
Learn more here.
---
Tennessee
House Speaker Cameron Sexton (R) has introduced a measure which would opt Tennessee out of federal funding for K-12 education.
Learn more here.
---
Texas
Governor Greg Abbott's (R) administration is stating that the use of DEI qualifications in hiring, or the existence of DEI initiatives, positions, or departments in the public sector are illegal.
Learn more here.
---
Vermont
Vermont senators are working to create a bill that would protect reproductive and gender-affirming procedures, include such procedures in health insurance plans, and eliminate patient copays for such services.
Learn more here.
---
Virginia
Virginia's state Senate is moving ahead with a measure to prohibit foreign governments from purchasing agricultural land after the year 2023.
Learn more here.
---
Washington
Washington's state Senate passed a bill that would repeal the need for advisory votes on tax increases.
Learn more here.
---
West Virginia
West Virginia's Senate voted to cut personal income tax rates by 15%, half of the reduction sought by Governor Jim Justice (R).
Learn more here.
---
Wyoming
Wyoming's Senate has passed a measure that will prohibit transgender athletes from playing in sports leagues that align with their gender identities.
Learn more here.
---
Capital and Capitol Happenings: New Positions, Promotions, and More
David Vitali: new Manager, Public Policy, NJ and PA, Amazon
Kate Roberts: new Special Advisor to the Budget Secretary, Office of Governor Josh Shapiro
Rachel Boss: new Director, Health Policy, UPMC Health Plan
James Kennedy: new Policy Analyst, County Commissioners Association of Ohio
Samantha Koch: new Director of Policy & Planning, PA Commission on Crime and Delinquency (PCCD)
Aaron Danks: new External Affairs Associate, Office of Governor Josh Shapiro
Alan Deckman: new Founder and President, CT Blockchain Association
Nicholas Carton: new Regional Director, State Government Affairs, Juul Labs
---
Happy Birthdays This Week
Ryan Stevens: Director of Public Affairs and Business Development, Duane Morris Government Strategies
Jody McGinness: Executive Director, Hemp Industries Association
Clifford Williamson: Executive Director, Virginia Agribusiness Council
Ron Gallagher: President, PA Association of Mutual Insurance Companies
Gordy Hulten: Chief Operating Officer, Illinois Manufacturers' Association
Johannes Escudero: Founder and CEO, Coalition for Renewable Natural Gas
Robert Nash: State Government Affairs Counsel, American Family Insurance
Morgan McCord: Government Affairs Specialist, Virgin Orbit
Want to wish someone a happy birthday or recognize their new job or promotion? Email future suggestions to rjstevens@dmgs.com.
---