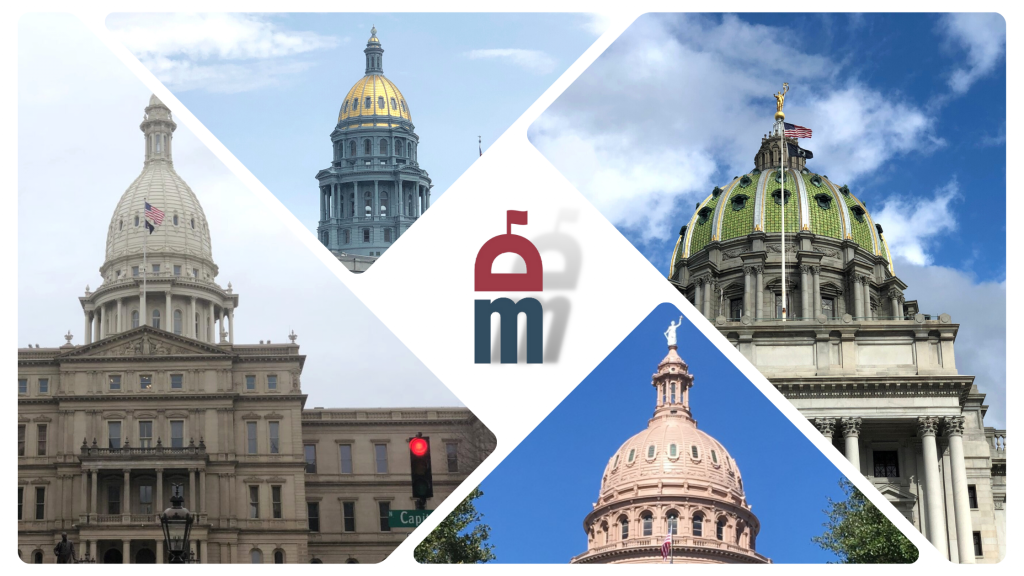 One week after the midterms, some states are still counting votes, while other incoming administrations are appointing transition teams, and incumbents who won re-election stated agenda items for their next terms. State officials around the country also considered judicial retirements and appointments, budget items, weather emergency declarations, and food assistance, among other items. Also remember to check out this week's posts from DMGS!
---
Alabama
Governor Kay Ivey announced the opening of a brand new $1.1 billion solar module manufacturing facility.
Learn more here.
---
Alaska
Governor Mike Dunleavy announced the appointment of current Acting Chief of Staff Tyson Gallagher as his permanent Chief of Staff.
---
Arizona
Democratic candidate for Governor and current Secretary of State Katie Hobbs was declared the winner of the Arizona Governor's race, a week after Election Day.
---
Arkansas
A legislative committee approved $30 million in funding for the Arkansas School for the Blind and Visually Impaired and the Arkansas School for the Deaf.
Learn more here.
---
California
The California Legislative Analyst Office produced a report estimating the State could face a $25 billion budget deficit for fiscal year 2023-2024.
---
Colorado
Following last Tuesday's midterm elections, Colorado became the second state in the country to have a majority-women legislature, with women holding 51 of 100 seats across both chambers.
---
Connecticut
State officials will prepare a proposal for the next legislative session to implement early in-person voting following the passage of a ballot proposal last Tuesday.
---
Georgia
A Judge in Fulton County has overturned Georgia's six-week abortion ban.
---
Hawaii
Hawaii's Office of Consumer Protection announced that 40 states, including Hawaii, have reached a $391.5 million settlement with Google over location tracking practices.
---
Illinois
Governor J.B. Priztker declared Illinois a disaster zone for the 36th time due to COVID-19, extending his emergency powers for another 30 days.
---
Iowa
Governor Reynolds announced that Taryn Frideres, currently the state's Chief Operating Officer, will take over as her Chief of Staff.
---
Kansas
Governor Laura Kelly announced her intention to pursue Medicaid expansion in her next term.
---
Kentucky
Governor Andy Beshear announced an executive order to relax restrictions around medical marijuana.
---
Louisiana
Republican U.S. Senator John Kennedy is considering a bid for Louisiana Governor in 2023.
Learn more here.
---
Maine
The state's Blue Ribbon Commission to Study Emergency Medical Services will ask the Legislature for $70 million a year for the next five years to assist EMS providers.
---
Maryland
Incoming Governor Wes Moore announced a series of new hires for his new administration.
---
Michigan
Governor Gretchen Whitmer announced increased food assistance benefits leading up to next week's Thanksgiving holiday.
---
Minnesota
Governor Tim Walz announced new cabinet appoints for his second term in office, after winning re-election last week.
---
Mississippi
Governor Tate Reeves is asking for funding in the upcoming budget to arm teachers and staff inside of schools.
---
Missouri
The Department of Justice announced an investigation into Missouri's policies around handling those with severe mental illness.
---
Montana
Governor Greg Gianforte is proposing over $1 billion in tax cuts for his 2025 biennial budget.
---
Nebraska
Governor-elect Jim Pillen announced two cabinet appointments for his incoming administration.
---
New Hampshire
A seat in the New Hampshire House of Representatives is tied after a recount, with both candidates at 970 votes.
Learn more here.
---
New Jersey
NJ's Fish and Game Council reinstated the hunting of black bear at the request of Governor Murphy, who reversed his position on the issue.
---
New Mexico
Some low-income residents of New Mexico will receive a one-time payment of $400 as part of a joint initiative between the New Mexico Human Services Department and the Taxation and Revenue Department.
---
New York
Governor Hochul declared a state of emergency in anticipation of a snow storm in the Buffalo and Watertown areas.
---
North Dakota
Republicans in the North Dakota legislature elected new caucus leadership.
---
Ohio
Lawmakers in Ohio passed a bill to place further restrictions on distracted driving.
---
Oklahoma
Governor Kevin Stitt appointed university executive Brandon Tatum as his new Chief of Staff.
---
Oregon
Oregon legislature will consider Measure 114, a gun-safety initiative that passed during last week's midterm election.
---
Pennsylvania
Governor-Elect Josh Shapiro and Lieutenant Governor-Elect Austin Davis announced the first members of their transition team.
Learn more here.
---
South Carolina
The Department of Employment and Workforce and Governor's office announced that tax rates for South Carolina employers will either decrease or remain the same.
---
South Dakota
Democrat and Republican legislators held leadership elections this past weekend for the upcoming legislative session.
---
Tennessee
State Supreme Court Justice Sharon Lee informed Governor Bill Lee that she would be retiring next year, which will allow him to appoint her replacement.
---
Texas
Bill filing began for the upcoming legislative session, which is slated to begin on January 10th.
---
Vermont
Vermont voters passed ballot measures that amend the state's constitution to ban slavery in any form and protect reproductive rights.
---
Virginia
Gov. Glenn Youngkin and Senate President Pro Tempore L. Louise Lucas set the date of the special election to replace Jen Kiggans, who was elected to Congress last week. The election will be held January 10th.
Learn more here.
---
West Virginia
Governor Jim Justice and Health Secretary Bill Crouch announced rate increases for ambulance services.
Learn more here.
---
Wisconsin
Governor Tony Evers announced plans to include cannabis legalization in the upcoming state budget.
DMGS Posts This Week
---
Capital and Capitol Happenings: New Positions, Promotions, and More
Lucas Midura: new Legislative Aide, Florida House of Representatives
Kevin Carson: new District Office Director (Chief of Staff), Pennsylvania House of Representatives
Tom Foulkes: new President, Board of Directors, State Government Affairs Council
Bill Ward: new Board Member, PA Chamber of Business and Industry
Drew Zinecker: new Chief of Staff, Montana House of Representatives
Matthew Lenz: new Senior Director, State Advocacy, BSA the Software Alliance
David Greineder: new Executive Director, Pennsylvania House Insurance Committee
---
Happy Birthdays This Week
Bryan Ha: Director of Government Relations, California Faculty Association
Andrew Heath: Executive Director, Downtown Bentonville Inc.
Nathen Cloutier: Government Affairs Specialist, Eaton Peabody
Mike Maloof: Senior Policy Advisor, Republican Governors Association
Email future suggestions to rjstevens@dmgs.com.
---