Heading into new legislative sessions across the country, we take the opportunity to review the current state of Autonomous Vehicle regulation, and look towards the future.
Federal Regulation
Despite the increasing proliferation of autonomous vehicle (AV) technology, the federal government has thus far failed to pass any meaningful regulation through the legislative process.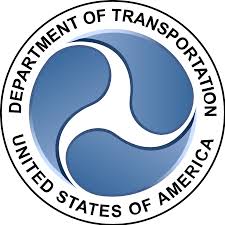 In the Fall of 2017, the US House did pass, by voice vote, a bill (H.R. 3388) that would set federal standards for the development of driver-less vehicles, but it failed to move through the Senate.
The end of 2018 saw a renewed effort by the Senate to move legislation through before the end of the year. S. 1885 would have implemented a relatively loose framework of regulations as a stop-gap measure until full federal safety standards can be agreed upon. Some items in this proposed bill included:
Setting federal standards for the design, construction and performance of the vehicles, similar to their existing powers
Requiring manufacturers to submit reports to the federal government validating their vehicles' ability to identify other vehicles, pedestrians and cyclist
Placing limits on the use of forced arbitration for anyone hurt in a self-driving-vehicle crash
As with other vehicles, leaving it up to states to control how AV's are registered and licensed, and local authorities to enforce traffic laws
Unfortunately, a some Senate Democrats expressed a series of concerns with the language in S. 1885, and dashed any hope of passage in the 115th Congress.
In order to allow the auto industry to move forward with continued development of AV's, the US Department of Transportation has released its third version of voluntary guidelines. While these are useful, without Congressional approval and appropriation, they are ultimately unenforceable.
This indecision on the federal level has led to a patchwork of state and local regulations and ordinances.
State Regulation
In 2011, Nevada became the first state to pass legislation authorizing the operation of autonomous vehicles within its borders. Since then, 21 other states have passed their own legislation and Governors in 10 states have issued executive orders.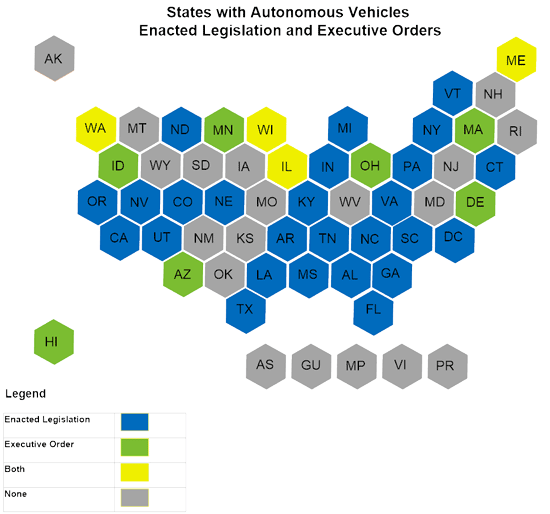 A number of states are taking a particularly cautious approach, passing legislation that includes language like "promote," "support," and "study" when describing the future of AV's. These states include Delaware, Idaho, Massachusetts, Minnesota, Wisconsin, Alabama, North Dakota, Utah, Vermont & Washington. They clearly see value in the promise of AV technology, and want to make its future adoption as seamless as possible, but do not appear ready to jump in with both feet quite yet.
At the other end of the spectrum are states that are eager to be on the forefront of this new technology, preparing themselves to reap whatever benefits may come from its widespread use.
Arizona's Governor Doug Ducey has opened his state wide open to AV testing through an executive order he signed in 2015 and updated in March 2018. This brought with it both positive and, unfortunately, some negative attention we will detail below.
Beyond Arizona, it's worth noting that both Tennessee and Illinois have passed legislation preventing municipalities or counties from denying AV's access to their roads.
Pennsylvania has also placed itself at the center of the AV discussion, providing for a $40 million fund for "intelligent transportation system applications, such as autonomous and connected vehicle-related technology." Additionally, starting this Spring, Pennsylvania highways will permit what is called "platooning." Essentially, platooning is computer-assisted driving, while maintaining a human hand at the wheel, that allows for trucks (up to 3 under the PA law) to form a train on the highway. These three trucks would be able to travel much closer together, increasing fuel efficiency and taking up less space on the road. The automated technology would help to prevent accidents by increasing the truck's reaction time to changing road conditions, obstacles or braking.
Under current PA law, each of the three vehicles must have a human driver, but it is widely believed that we will soon reach the point where only the first of the three in a "platoon" would be manned, with the others in the group operating solely on AV systems.
The laboratory of the states will continue working until Congress and the Administration can get together and agree on how best to regulate a technology that has the potential to completely change the transportation sector in the United States.
Municipal Initiatives
While the federal government takes its time laying out a clear regulatory framework, major US cities are taking it upon themselves to partner with private industry to launch AV pilot programs and examine how this new technology will best serve their communities.
According to an October 2018 report issued by the National League of Cities, "before long, autonomous vehicles will be ubiquitous on roadways, but the full story has not yet been written — cities need to be in the driver's seat as we transform from the current mobility environment to our autonomous future."
Arlington, Texas is one example cited by the NLC report, deploying a 12-passenger fixed-route shuttle on non-public roads. As part of this program, the City of Arlington leased two low-speed shuttles from France-based EasyMile, and set up routes between parking lots and sporting & concert venues. Thanks to the success of this pilot program, Arlington is exploring bringing more AV vehicles to public roads in the next phase of the project.
Another example is Allegheny County, PA, home to the city of Pittsburgh. In conjunction with the PA Department of Transportation, Pittsburgh has allowed Uber to test and operate self-driving vehicles as part of its ride-sharing service.
Further innovations by municipalities will be important to watch.
The Challenges and Future of AV Technology
According to the National Highway Traffic Safety Administration, 94% of traffic deaths are caused by human-error, and AV advocates claim the technology can help to reduce those numbers.
That said, the proliferation of AV's will face a number of challenges, primarily questions of safety.
In a story that was widely reported, in March 2018, a self-driving vehicle operated by Uber struck and killed a pedestrian in Tempe, Arizona. This was followed not long after by a similar incident involving a Tesla vechile in California.
Despite these tragedies, a number of jurisdictions that had halted testing in the immediate aftermath have restarted their programs, including Pittsburgh.
Overall, industry leaders believe that, over time, consumers will warm up to the idea of adding driving to that long list of every day tasks handed over to technology.
Early 2019 has seen a number of new and renewed efforts to promote self-driving cars in the states as well.
In Texas, the Department of Transportation has announced the creation of a Connected and Autonomous Vehicle (CAV) Task Force "to become a central point for CAV advancement in Texas." The CAV task force is designed to be a primary source of information and coordination on all ongoing CAV projects, investments and initiatives in Texas.
Just last week in Florida, new legislation was introduced which would eliminate requirements that human operators always be on hand to take control of fully autonomous cars, while also legalizing AV's fully run by software systems.
Whether future action comes from Congress, or we see further moves made by state and municipal authorities, there is no doubt that autonomous vehicle technology will continue to be a major issue moving into 2019 and beyond.