When the California state legislature passed a measure in August of 2014 to institute a statewide ban on single-use plastic bags, it became the first state to take this dramatic step.
Before the ban could take effect, the proposal was put for as a proposition which appeared on the 2016 ballot in the Golden State. By a margin of 52-48, the voters approved the ban, known as Proposition 67.
In today's Legislative Update, we review some of the states that may be looking to follow in California's footsteps in 2019 and beyond.
Municipal & County Action
Often times, we see our country's most local forms of government take the boldest moves to tackle the public policy issues of the day. The regulation of single-use plastic bags is no different.
According to data from the National Conference of State Legislatures, a number of major American municipalities have outright banned the distribution of these bags at retailers, including:
Austin, TX
Boston, MA
Chicago, IL
Seattle, WA
A number of other localities have stopped short of banning their use, but have imposed a fee per bag, including:
Boulder, CO
Brownsville, TX
Montgomery County, MD
New York, NY (enforcement blocked by state government)
Portland, ME
Washington, D.C.
These headline-grabbing cites are just some of the hundreds of municipalities nationwide that have instituted some form of ban, tax, fee, or mandatory recycling program.
Potentially coming up on the horizon is the City of Brotherly Love. There have been a number of attempts made, as far back as 2007, to institute some form of regulation over single-use plastic bags. Most recently, Councilman Mark Squilla attempted to pass a 5-cent fee on the bags in 2015, but the measure failed largely over concerns that it would become a de-facto regressive tax on the poorest Philadelphians.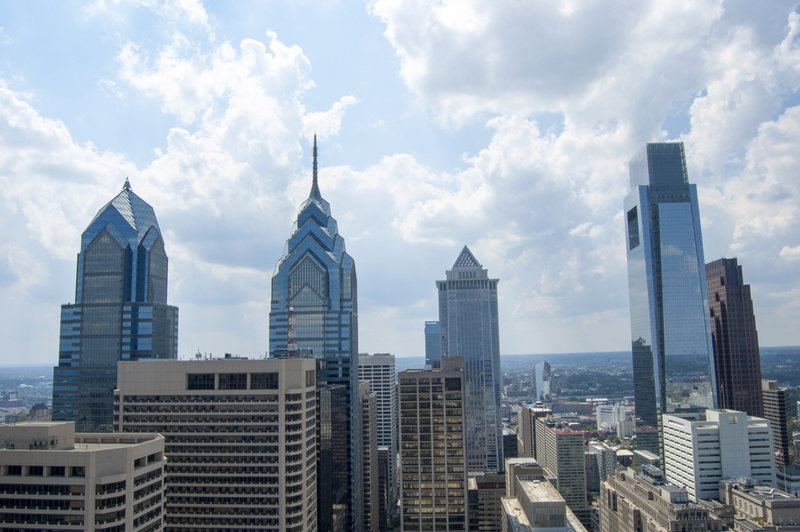 However, according to reporting from BillyPenn, Councilman Squilla plans on making a renewed push for a ban this spring, and the Philadelphia Chamber of Commerce appears to be uninterested in opposing it this time around. The stars may be aligning for the Councilman and his efforts, but only time will tell.
Florida
Currently on the books in the Sunshine State is a law which prohibits municipalities from instituting their own bans on plastic bags. Known as a preemption law, Florida is one of a handful of states that are enforcing statewide uniformity when it comes to regulating plastic bags.
This has not stopped State Senator Kevin Rader, whose district encompasses parts of South Florida around Palm Beach and Broward Counties, from introducing Senate Bill 502.
Under Rader's proposal, certain retail and food-service stores would be prohibited from distributing single-use plastic bags or straws to customers, even for an additional fee.
For now, SB 502 has been referred to the Florida Senate Commerce & Tourism, Community Affairs, and Rules Committees for further consideration.
While not technically a legislative item, it's also worth noting that the Walt Disney World Resort has begun the process of removing plastic bags and straws from its own retail and food-service locations across the property. In many ways, the Central Florida institution often guides local policy on a number of employment and related issues, so this could have an impact, however small, on lawmakers in Tallahassee.
Maine
After the failure of a ban in 2017, support appears to be growing for a similar measure in Maine this legislative session.
Across the Pine Tree State, nearly two dozen municipalities have already imposed their own bans, and at least a half-dozen more are considering following suit.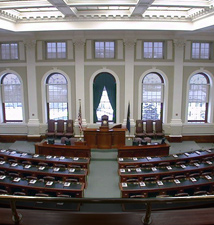 The time may be right for action in Maine, as a majority of the members of the Retail Association of Maine do not oppose some sort of regulation related to single-use plastic bags, with some notable exceptions, according to reporting by the Portland Press Herald.
State Representatives Holly Stover, Harold McCrea, and Nicole Gorhoski have each introduced, or will be introducing, legislation aimed at achieving a statewide ban. The details of their proposals remain unclear, but each has expressed an interest in addressing this issue.
Massachusetts
According to the Sierra Club, more than 90 municipalities across the Bay State have already imposed some form of a ban on single-use plastic bags, and legislation has been introduced to set a statewide standard.
SD 896, if passed, would see a ban go into effect on August 1, 2019.
New York
In April 2018, Governor Cuomo proposed a statewide plastic bag ban, which failed to gain traction in the Republican-controlled State Senate.
With the Senate now under Democratic control following the 2018 elections, Governor Cuomo believes the time is right to reconsider his proposal. With this in mind, the Governor included a ban in his 2019 budget proposal, along with an expansion of the so-called "Bottle Bill," making most non-alcoholic drink containers eligible for a 5-cent redemption.
In his 2018 proposal, the Governor allowed for a number of exemptions, including: bags that contained raw meat, fish or poultry, bags used for bulk packaging of fruit and dried goods, takeout food bags used by restaurants, and newspaper bags
It remains to be seen what level of success the Governor will have this time around, but he's certainly operating in a better political environment than 2018.
Oregon
Oregon lawmakers have made several attempts, in 2010, 2011 and 2012, to ban single-use plastic bags in the Beaver State, but each has failed.
However, like in so many states across the country, shifting opinions among the public and the business community may allow them to succeed this time around. Since the latest failed attempts, sixteen cities have imposed their own bans, meaning nearly 40% of Oregon residents already live in municipalities with a ban.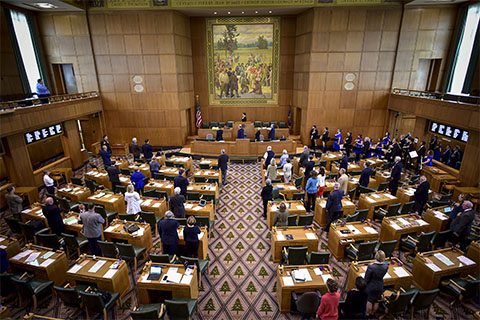 House Bill 2509 seeks to prohibit retail establishments from providing any bag except a recycled paper bag to customers at checkout. Retailers are able to provide recyclable paper bags for a 10-cent fee, or sell reusable bags. Exemptions would be permitted for meat or fruit & vegetable bags, as well as any other non-checkout plastic bags. Restaurants and other food-service locations would also be exempt from the ban under the bill's current language, though amendments are being debated to include restaurants in some form.
Opposition to the bill has unsurprisingly come from the Oregon Business & Industry Association, while the grocery industry has actually remained neutral so long as the fee for paper bags remains in place to help grocers control costs.