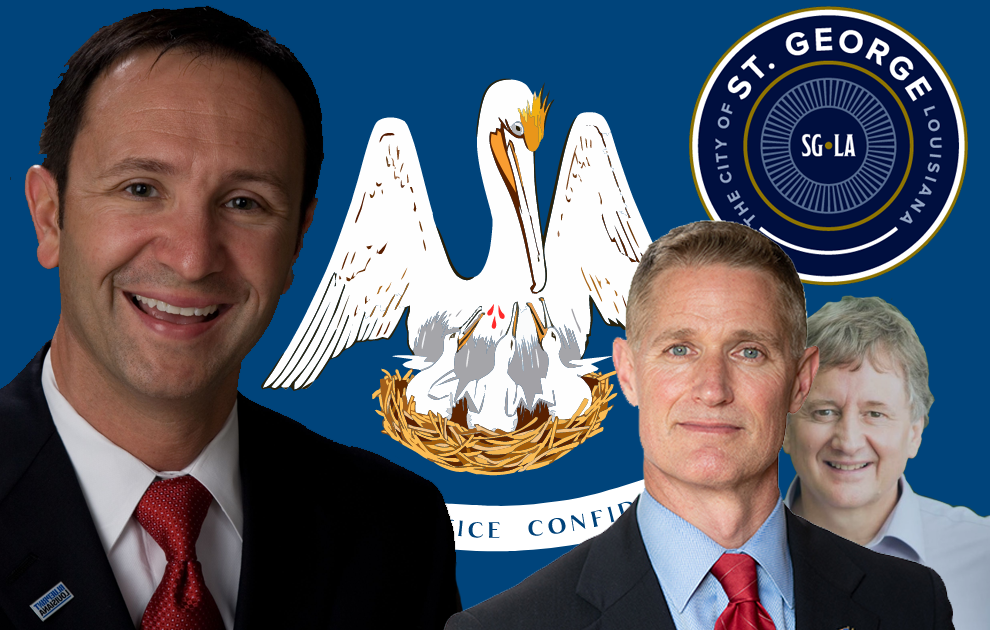 Attorney General[1]
Attorney General Jeff Landry (R) got his second term as the state's top lawyer by defeating his opponent with a margin of over 400,000 votes. His record while in office, including the establishment of the Louisiana Bureau of Investigation and his current lawsuit against prescription opioid manufacturers, appealed to voters.
St. George Becomes a City[2]
Southeastern East Baton Rouge Parish voters voted to create the city of St. George. 54% of the eligible voters were in favor of incorporation.
Now, East Baton Rouge Parish has nearly five municipalities, with St. George being one of the biggest cities in the state. The new city has a population of over 86,000 people.
The election is a result of a six-year effort to gain legislative support to create a breakaway school district for St. George. The school system creation is a separate process, with at least two to three years before the process even begins.
Supports of the vote, which is nearly finalized barring legal contest, felt St. George would offer better government and improved municipal services, all through public-private partnerships that would result in annual budget surpluses, and effectively run the new city on the projected $48 million to $58 million in sales tax revenue collected annually in the area.
The governor is tasked with appointing a mayor and five-member city council for St. George, but state law doesn't stipulate when that has to happen. City-parish officials as well as opposition groups have previously stated they're prepared to challenge the incorporation on multiple fronts.
Four Proposals for the Louisiana Constitution[3]
Amendment 1 (Rejected) would have created a property tax exemption for certain raw materials and other maintenance items headed for oil and gas drilling work in the Gulf of Mexico's Outer Continental Shelf.
Amendment 2 (Supported) broadens how money from a state education fund can be used, allowing spending on three additional schools and educational programming from Louisiana Public Broadcasting.
Amendment 3 (Supported) widening the authority of the state tax appeals board to let the appointed board members determine whether certain tax and fee measures are constitutional, without a taxpayer having to go to court to settle a tax dispute. The Board of Tax Appeals decision could be appealed to the courts, or a taxpayer could still take a disagreement directly to court instead.
Amendment 4 (Rejected) would have let the city of New Orleans exempt properties with up to 15 residential units from property taxes, as an incentive to create affordable housing.
Republican Milligan Wins District 38 State Senate Seat[4]
Republican Barry Milligan beat Democrat John Milkovich in Saturday's Louisiana primary, winning the Louisiana Senate District 38 seat with 51% of the vote for District 38. Milkovich has served the district since 2015, after defeating Republican Richie Burford. Republicans gained a supermajority in the state Senate, as a result of the loss.
Democrat John Milkovich managed to garner just 26% of the vote, while Republican Barry Milligan took home 51% to claim the seat. Milligan has no political background and this was seen as a surprising upset, but won on his campaign of resolved conservativism and fiscal responsibility.
The democratic vote was largely split in this race with Katrina D. Early receiving 23% of the vote.

---
[1] https://www.stateside.com/election
[2] https://www.theadvocate.com/baton_rouge/news/article_4c842ecc-ec43-11e9-bf9c-7f1c0b207650.html
[3] https://www.wwltv.com/article/news/politics/elections/louisiana-rejects-amendment-for-affordable-new-orleans-housing
[4] https://www.arklatexhomepage.com/news/election/your-local-election-hq/milkovich-ousted-republican-milligan-wins-district-38-state-senate-race/