ELECTION COVERAGE SPOTLIGHT
Voters in several states headed to polls on Tuesday, November 5. The elections could lead to major shifts in power and potentially serve as bellwether elections – indicating how much momentum Democrats have kept since the midterms in 2018, offering a glimpse of potential party performance for 2020.
Kentucky Governor
Republican Governor Matt Bevin is challenged by state Attorney General Andy Beshear (Democrat). Bevin's low approval ratings — from feuds he's picked with public school teachers, state lawmakers and others — are the reason Bevin has a challenge despite Trump carrying the state by 30 points. Beshear is running on returning "Kentucky values". His father was also a popular governor who came before Bevin.
Mississippi Governor
Republican Lt. Governor Tate Reeves is narrowly favored over state Democratic Attorney General Jim Hood in this open seat race. Mississippi's current Governor (Republican) can no longer run due to term limit. Mississippi is red to its core and Trump carried by 18 points. Trump has a current 54% approval rating in a Mason-Dixon poll, which also demonstrated 56% of Mississippi voters opposing impeachment. However, Hood is an anti-abortion centrist, who is every bit a Mississippi man – as demonstrated by his ads.
Virginia Legislature
Eyes are on Virginia Democrats and whether or not tonight's results will be enough to carry them to a majority in the statehouse for the first time in nearly 25 years. In the House of Delegates, Republicans have a 51-48 majority. In the state Senate it's a 20-19 advantage, with each chamber having a vacant seat. New court-ordered lines redrawn earlier this year in the House also helped Democrats. The state is so split that during the last election, control of the House came down to drawing a name out of a bowl after an electoral deadlock. The election bowl candidates are in a rematch tonight.
New York City Ballot Measures
The New York City 2019 Charter Revision Commission voted for five proposed charter amendments on the ballot. The ballot questions consist of 19 different proposals combined into five questions each addressing different topics.
Ballot Question 1, New York City Elections Charter Amendment: Ranked-Choice Voting, Vacancies, and City Council Redistricting Timeline
Question 1 includes a proposal to establish ranked-choice voting for primary and special elections in the city.
A yes vote is a vote in favor of amending the city charter to do the following: establish ranked-choice voting to be used for primary and special elections beginning in 2021;increase the time between a city office vacancy and the special election to fill it from 45 days (60 for mayor) to 80 days; and change the timeline for city council redistricting to complete it prior to city council nominating petition signature collection.
Ballot Question 2, New York City Civilian Complaint Review Board Charter Amendment
Question 2 contains five proposals concerning the city's Civilian Complaint Review Board (CCRB), including proposals to provide for a minimum budget for the CCRB based on the number of NYPD officers, allow the Public Advocate to appoint one CCRB member, and authorize the city council to appoint members without confirmation from the mayor.
A yes vote is a vote in favor of amending the city charter to do the following: add two members to the 13-member Civilian Complaint Review Board (CCRB)—one appointed by the Public Advocate and one jointly by the mayor and speaker of the council;allow the city council to appoint members directly without the mayor having final appointing authority; require the CCRB annual budget to be enough to hire employees for at least one CCRB for every 154 police officers (0.65% of the city's police force) unless the mayor determines that fiscal necessity prevents it;add to the city charter the requirement that the city police commissioner to provide an explanation to the CCRB whenever the board's disciplinary recommendations aren't followed;authorize the CCRB to investigate the truthfulness of statements made during its investigation of complaints; and allow the CCRB to delegate its authority to issue and enforce subpoenas.
Ballot Question 3, New York City Ethics and Government Charter Amendment
A yes vote is a vote in favor of amending the city charter to do the following: increase the amount of time after leaving service before elected city officials and senior appointed officials can appear before the city agencies in which they served from one year to two years;replace two of five members of the Conflicts of Interest Board (COIB) appointed by the mayor with a member appointed by the comptroller and a member appointed by the public advocate;prohibit members of the COIB from involvement with city office campaigns and restrict contributions from COIB members to campaigns to between $250 and $400 depending on the office;add to the city charter a requirement that the Minority- and Women-Owned Business Enterprise (M/WBE) to report directly to the mayor and to require a mayoral office for the M/WBE; and require city council confirmation of the city's corporation counsel appointed by the mayor.
A no vote is a vote against amending the city charter concerning the Conflicts of Interest Board and the Minority- and Women-Owned Business Enterprise (M/WBE), thereby leaving the block of time required before certain city officials can appear before their former agencies at one year; leaving all five existing mayoral appointments to the COIB; leaving COIB members without additional restrictions on campaign involvement and contribution limits; leaving no requirements concerning reporting by the director of the M/WBE to the mayor or concerning supporting roles for the M/WBE in the charter; and continuing to authorize the mayor to appoint the corporation counsel without city council confirmation.
Ballot Question 4, New York City City Budget Charter Amendment: Revenue Stabilization Fund, Public Advocate and Borough President Budgets, and Reporting by Mayor
Question 4 includes a provision to set minimum Public Advocate and Borough President budgets.
A yes vote is in favor of amending the city charter to do the following: authorize a rainy day fund to go into effect with required state law changes; set minimum Public Advocate and Borough President budgets based on the 2020 fiscal year adjusted based on inflation or the total change in the city's total budget; move the deadline for the mayor's revenue report (excluding property taxes) to the city council from June 5 to April 26; and set a deadline of 30 days for the mayor to submit changes to the city's financial plan requiring budget changes to the city council.
A no vote is a vote against amending the city charter regarding certain elements of the city budget, thereby leaving charter provisions precluding a rainy-day fund in place; leaving the Public Advocate and Borough President budgets set through the standard budget process; leave the deadline for the mayor's revenue report to the city council at June 5; and leaving no specification about when the mayor must submit certain budget changes to the city council.
Ballot Question 5, New York City Land Use Charter Amendment: Uniform Land Use Review Procedure Requirements
This would require the Department of City Planning (DCP) to provide a summary of Uniform Land Use Review Procedure (ULURP) projects to the Borough President, Board and Community Board affected by the project 30 days prior to when the project application is certified for review by the public and increase the amount of time allowed for review of the ULURP projects by the affected Community Boards from 60 days to either 75 days or 90 days, depending on timing.
California
San Francisco mayor: Mayor London Breed, the city's first African American female mayor, is running for a full term. Breed won a special election in 2018, triggered by the death of former Mayor Ed Lee. Breed has listed reducing homelessness as a top agenda item.
Pennsylvania
Philadelphia mayor: Incumbent Democratic Mayor Jim Kenney is expected to easily win a second term over his Republican challenger, attorney Billy Ciancaglini, due to the 7-to-1 ratio by which Democrats hold the city.
Delaware County Council: Three Democrats and three Republicans are running to fill three open seats on the five-member county board. Previously, two Democrats beat out Republican incumbents to win the party's first seats on the governing body in more than 50 years. Currently, registered Democrats in the county outnumber Republicans.
Philadelphia City Council: All 17 seats on the city governing body are on the ballot. They include 10 district seats and seven at-large seats. This year, third-party candidates, some with the backing of popular Democratic leaders, hope to knock Republicans out of seats long held by the GOP.
Chester County District Attorney: Tom Hogan, the county's DA for the last eight years, is not running for a third term. That leaves a vacancy in the large and diverse Southeastern Pennsylvania county.
Philadelphia Sheriff: The Democratic nominee, Rochelle Bilal, is set to become the first female sheriff elected in the city's history.
Delaware County District Attorney: Republican moderate incumbent Kat Copeland faces a challenge from Democrat Jack Stollsteimer.
Other races in the state include a contentious re-election bid of first-term Montgomery County Commissioner Joe Gale, a Trump acolyte.
South Bend, Indiana, mayor: Democratic presidential candidate and South Bend Mayor Pete Buttigieg won't be running for reelection. Instead, he's endorsed his former chief of staff James Mueller. Mueller is the favorite in a race against public school teacher and Republican candidate Sean Haas. South Bend last elected a Republican mayor in 1967, a sign that Mueller will likely have an easy victory. However, Mueller has to confront a spike in crime that the city has seen in the last year, along with a strained relationship between Buttigieg and residents of color. A relationship that has become increasingly sour. Both Mueller and Haas have committed to public safety among their core campaign tenets.
Washington
Voters decide whether to reinstate affirmative action program.
The use of affirmative action in Washington state as it relates to government jobs and state universities has been barred since 1998, when voters approved a measure banning it. Women and minority owned businesses getting government contracts declined since the affirmative action bar. Now, voters will have the option to reinstate affirmative action. This vote is expected to provide an indication of shifts in attitudes over the past few decades.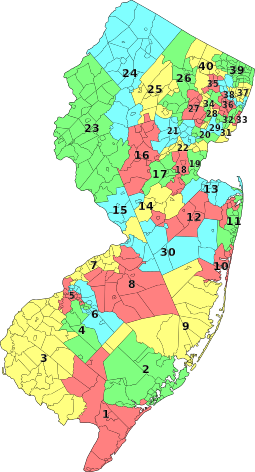 New Jersey
All 80 seats in the Assembly — which is currently made up of 54 Democrats and 26 Republicans — are up during the 2019 election. Assembly terms last two years. Democrats have an opportunity to flip the entire state blue in the Assembly and have been pushing to do so – seeing this as key to advance portions of a progressive agenda, such as cannabis.
District 1
Democratic incumbents Bruce Land and Matt Milam are running for re-election in this politically split South Jersey district. Republicans Antwan McClellan and Erik Simonsen are hoping to flip the seats.
District 2
Democratic incumbents Vince Mazzeo and John Armato are running for re-election and Republicans Phil Guenther and John Risley running against them.
District 8
Senator Dawn Addiego defected from the Republican Party in January. But Republican incumbent Ryan Peters and running mate Jean Stanfield, a former Burlington County sheriff, are against Democratic challengers Gina LaPlaca and Mark Natale. There's also an independent candidate running as a "MAGA Conservative," Tom Giangiulio, who could pull pro-Trump voters away from the Republicans.
District 10
Assemblyman Gregory McGuckin, R-Ocean, is seeking re-election. He's joined on the Republican ticket by former Brick councilman John Catalano, who is replacing Assemblyman David Wolfe, who declined to run for re-election.
The Democratic candidates are Eileen Della Volle and Erin Wheeler. Ian Holmes and former Point Pleasant Beach Mayor Vincent Barrella are running as independents, as is Ian Holmes.
District 13
Republican Serena DiMaso, is an incumbent. Running alongside her is Gerry Scharfenberger, a Monmouth County freeholder and former Middletown Township committeeman and mayor. Scharfenberger is replacing Assemblywoman Amy Handlin, who chose not to run for re-election. Challengers are Democratic candidates Allison Friedman, who currently serves as president of the Matawan-Aberdeen school board, and Barbara Singer, an attorney in Holmdel.
District 16
Democratic Andrew Zwicker and Roy Freiman are running for re-election against Republicans Mark Caliguire and Christine Madrid in a split Central Jersey district that's become a battleground in recent years.
District 21
This is the biggest race to watch. Assembly Minority Leader Jon Bramnick — the chamber's highest-ranking Republican — and longtime district mate Nancy Munoz are running for re-election in a traditionally GOP district that's been turning bluer lately. They're facing a tough challenge from Democrats Lisa Mandelblatt and Stacey Gunderman, as well as a pair of "independent conservative" candidates, Martin Marks and Harry Pappas.
District 25
Republican incumbent Anthony M. Bucco was selected to move up to the state Senate after the sudden death of his father, Anthony R. Bucco. But it was too late to take Bucco off the ballot for Assembly. He and running mate Brian Bergen face a tough challenge from Democrats Darcy Draeger and Lisa Bhimani. If Bucco wins, the party will pick someone to replace him in the Assembly.
STATEWIDE BALLOT QUESTION
Voters across the state will be asked whether to approve a small tax break for a few thousand military veterans and their spouses in New Jersey.
The ballot question calls on voters to decide if veterans who served during a time of war or other emergency and live in a continuing care retirement community should get the same $250 annual deduction on their property taxes as veterans who live in their own home. The change would cost taxpayers in the state less than $1 million a year.
Resources: