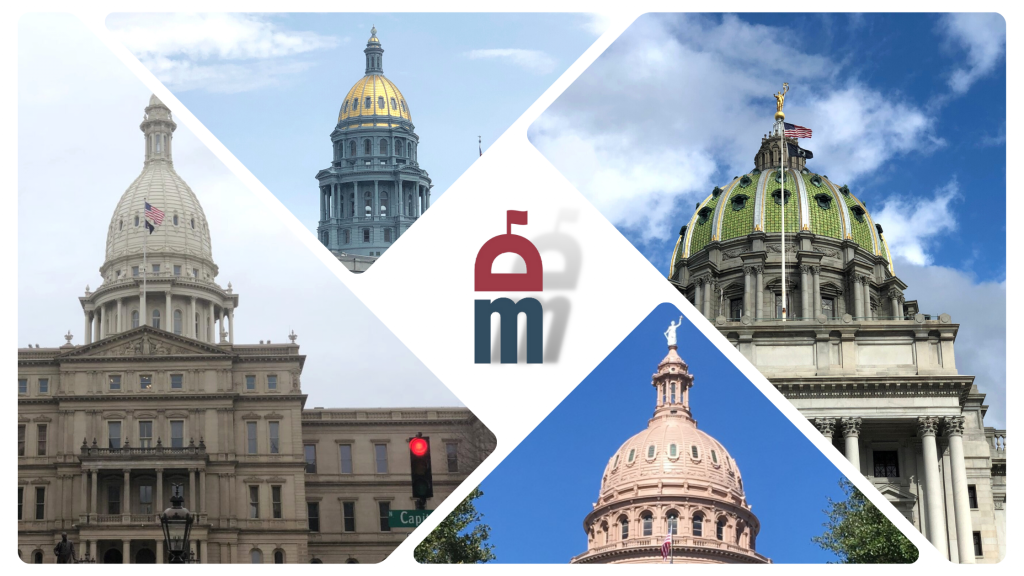 With less than one month before the November mid-term elections, lawmakers and governors remained busy with a flurry of action. Notably, New Jersey lawmakers are looking to tweak its plastic bag ban law, California plans on banning the plastic bags used at supermarkets in the produce section, and Florida lawmakers appropriated $360 million for Hurricane Ian response and recovery efforts.
---
Alabama
Governor Kay Ivey announced over $19 million for improvements in almost 50 towns, cities, and counties.
Learn more here.
---
Arkansas
State officials in Arkansas are preparing for how to spend as much as $1.5 billion in federal funding for new clean energy projects, which as solar energy and electric vehicle charging infrastructure.
Learn more here.
---
California
Governor Newsom recently signed legislation which will force supermarkets, by January 1, 2025, to phase out single-use plastic produce bags, called pre-checkout bags, often used in the fruits and vegetables section.
Learn more here.
---
Colorado
Governor Polis and other elected leaders are urging Congress to allow financial institutions to service the cannabis industry.
Learn more here.
---
Connecticut
State lawmakers are looking at extending the state's current gas tax suspension, which is currently saving consumers 25 cents per gallon at the pump. The current suspension is set to expire November 30.
Learn more here.
---
Delaware
Governor Carney formally extended the state's public health emergency for the COVID-19 pandemic.
Learn more here.
---
Florida
Earlier this week, state lawmakers gave Gov. Ron DeSantis $360 million to help respond to various Hurricane Ian projects.
---
Georgia
A new poll shows Governor Brian Kemp and Senator Warnock lead in their races less than a month from election day.
Learn more here.
---
Hawaii
Governor Ige issued an executive order protecting reproductive healthcare rights in the state.
Learn more here.
---
Idaho
Governor Little announced that the state's secondary and postsecondary career technical education programs received $8 million in grants.
Learn more here.
---
Indiana
Governor Eric Holcomb announced he will not issue pardons for marijuana use.
Learn more here.
---
Iowa
Governor Kim Reynolds was named the most fiscally responsible governor in America by the Cato Institute.
Learn more here.
---
Kentucky
Governor Andy Beshear is considering pardons for marijuana offenses in light of President Biden's recent announcement.
Learn more here.
---
Louisiana
Governor John Bel Edwards announced a milestone emissions reduction project in the state.
Learn more here.
---
Maine
Governor Janet Mills announced $100,000 in state money to appeal a federal ruling regarding new fishing requirements.
Learn more here.
---
Maryland
Republican Dan Cox and Democrat Wes Moore debated this week in the race to succeed term-limited Governor Larry Hogan.
Learn more here.
---
Michigan
This week, Governor Gretchen Whitmer signed legislation which will make college more affordable for students by providing thousands of dollars. Beginning in 2023, qualifying high school graduates can get up to $2,750 for community college, $4,000 for private college, or $5,500 for a public university.
---
New Jersey
Following NJ's plastic bag ban becoming law earlier this year, lawmakers have introduced a bill recently to allow grocery delivery companies to use certain paper bags. The legislation would allow for a choice between single-use bag made with at least 40% recycled material, cardboard boxes, or reusable bags.
Learn more here.
---
North Dakota
Next month, voters in North Dakota get to decide whether or not to impose term limits on the governor and state lawmakers.
Learn more here.
---
Oklahoma
Lawmakers will not reconvene a special legislative session to try to override three spending bills which Governor Kevin Stitt recently vetoed. Instead, lawmakers will wait until next year to figure out how to spend the state's remaining federal American Rescue Plan funds.
Learn more here.
---
South Dakota
Earlier this week, a few state lawmakers issued a call for legislators to reconvene in an effort to repeal South Dakota's grocery sales tax.
Learn more here.
---
Vermont
State lawmakers are trying to determine what next year's legislative session will look like as COVID continues. In the next session, rapid COVID tests will no longer be free for the public and masking will be optional.
Learn more here.
---
This Week's DMGS Posts
---
Capital and Capitol Happenings: New Positions, Promotions, and More
Ben Utley: new Senior Manager of Government Relations, ERCOT
Michael Hogg: new Manager, State Affairs, National Automatic Merchandising Association
Chrissy Buteas: new Vice President, Government Affairs, Altice USA
Karen Bailey-Chapman: new SVP, Public & Government Affairs, Specialty Equipment Market Association
Ivan Rodriguez: new Chief of Staff, Jacksonville Transportation Authority
---
Happy Birthdays This Week
Ron Boston: Senior Government Relations Manager, Duane Morris Government Strategies
Patrick MacFarlane: Government Relations Manager, Child Care Resource Center
Deb Peters: Government Relations Specialist, Primacy Strategy Group
Email future suggestions to rjstevens@dmgs.com.
---