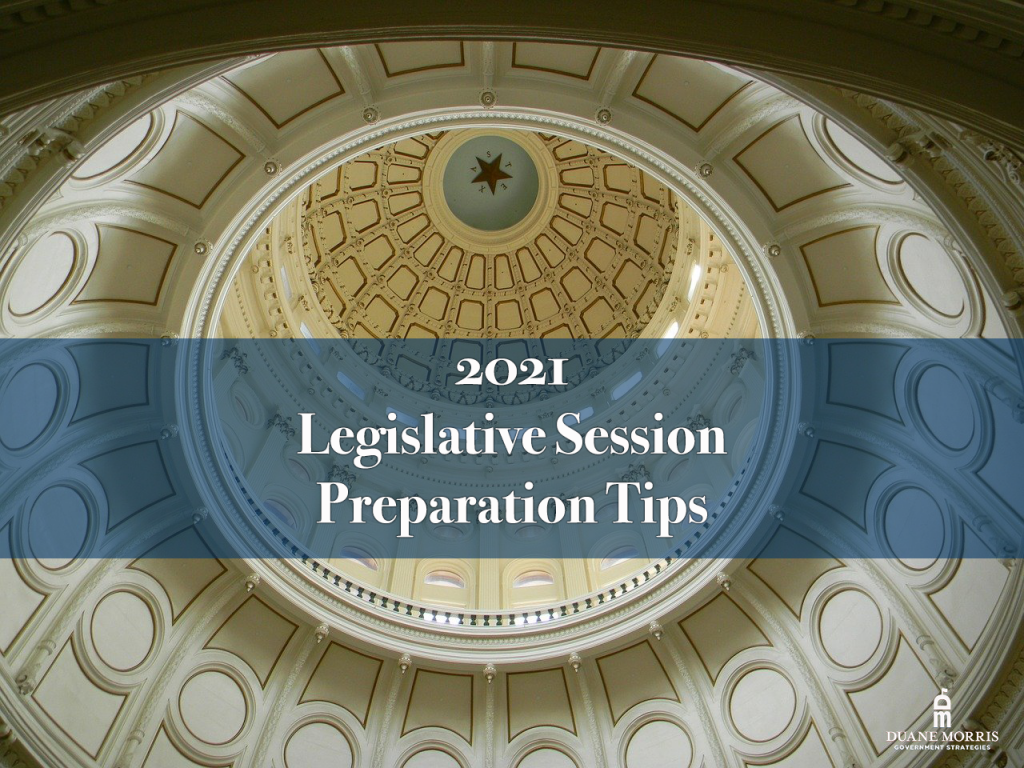 With 2021 legislative sessions now underway in numerous states, it is essential to prepare for your advocacy efforts. While you may have advocated or lobbied lawmakers for an issue or cause in the past, you are likely to face different obstacles in 2021. The COVID-19 pandemic continues to affect all our lives, and those in state governments are no different. The pandemic has fundamentally changed how you will need to advocate with lawmakers.
COVID-19 upended legislatures and their operations in 2020, and we provided our How to Advocate in the Age of COVID-19 guide to help you navigate these changes. Now that we head into new legislative sessions, changes are abound due to the November elections and continuing pandemic. Government affairs professionals and clients must prepare for these changes to advocate and lobby lawmakers effectively.
Here are the tips that will help prepare you and your organization for 2021 legislative sessions.
---
DMGS Tip # 1: Determine What You Want to Accomplish
What are your goals? Identify the most relevant issue area to your organization. Can you educate lawmakers on the effects of a piece of legislation? Can you explain to lawmakers how COVID-19 is affecting you? Will an amendment to an existing bill help or harm your organization? Do you have a legislative proposal that you would like to see introduced in the legislature? Is a grant program that funds your organization's work at risk of being eliminated? Is there federal funding that could help your organization?
These are all critical questions that you must ask and answer when determining your objectives.
When you have identified your goals and objectives, consider your advocacy materials. What kind of materials can you put together? Who will be advocating? Do you have organization members or organization supporters who can advocate for you and your goals?
---
DMGS Tip # 2: Know the Political Power Structure in Your State
With a new session comes new lawmakers, committee assignments, and power structure shifts. Does your state have a trifecta with one party controlling the governor's office and both legislative chambers (or a single chamber with Nebraska's unicameral legislature)? Or, does your state have a divided government? Which party controls each branch and chamber? Make sure you know the answers to these questions and stay on top of legislative leadership as well.
Your state's legislature may have a new House Speaker, Senate President, and other top legislative and political leaders, but pay attention to committee leadership too. When you identify your goals and issues, know the committees responsible for overseeing those issues. If your committee has new leadership, you will have an opportunity to build new relationships.
---
DMGS Tip # 3: Know the Pandemic's Impact on Your Legislature's Operations
2021 legislative sessions will undoubtedly look different than sessions of years past. If you have previous lobbying experience, you have seen the hustle and bustle that comes with legislative sessions. With some states moving to virtual operations, in-person, or a combination of both, the ways you advocate must also change.
You should also know the rules of your state capitol in preparing to advocate. If you are allowed inside the capitol, do you have to wear a mask? Do committee meetings and hearings have limited seating? If so, get there early!
It is also important to stay flexible. If the session wraps up in a few months in your state, that does not necessarily mean lawmakers have finished legislating for the year. As we saw in 2020, one or more special sessions might be required to address the pandemic, budgetary issues, or other issues such as police reform that may come up.
---
DMGS Tip # 4: Make Your Voice Heard and Build Relationships – Virtually!
From previous sessions, learn which lawmakers support your cause(s). Relationships should extend beyond partisanship. Reach out to members of both sides of the aisle, especially if your state has a divided government. You might advance a piece of legislation with bipartisan support across party lines, rather than with only one party's support.
With some state capitols closed to visitors and others being limited, utilize social media to advance your goals and advocate lawmakers. Practice your ABCs—Always Be Courteous—when interacting with lawmakers, especially virtually. Most lawmakers have a presence on various social media platforms and have emails with which you can communicate.
---
Other DMGS Lobbying Guides, Tips, & Articles
---